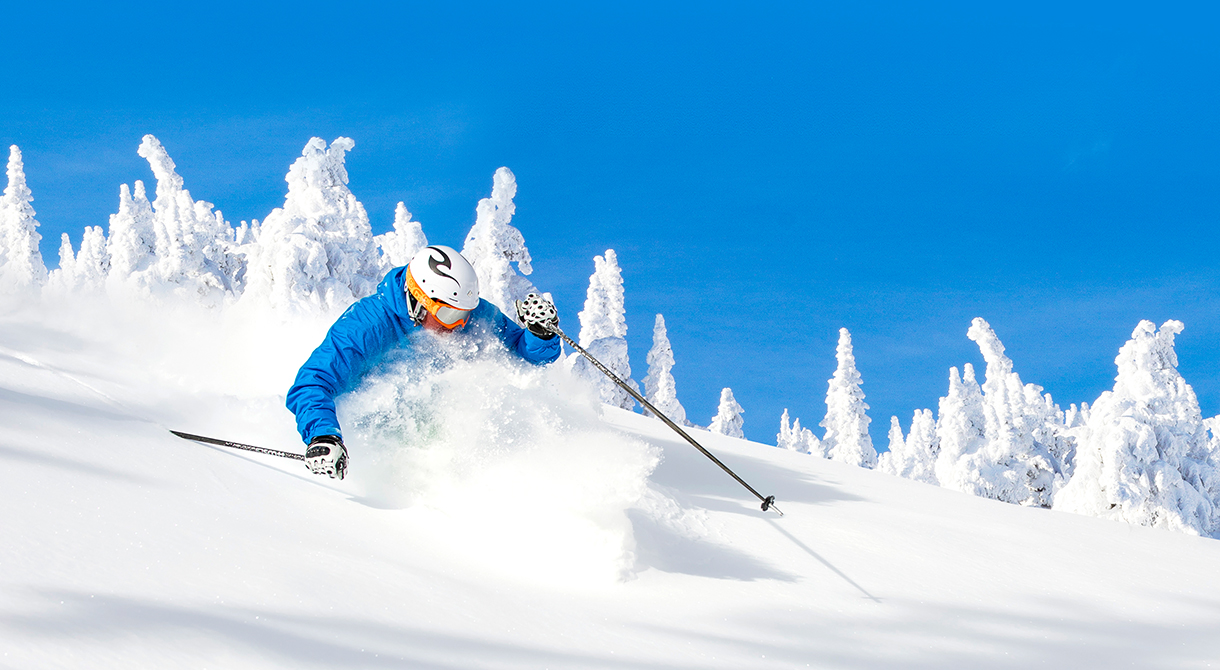 Big White: home of snow spirits
The Snow Ghosts, snow-covered trees on the slopes, are one of the attractions in Big White. Better than on the branches, however, the snow is lifted on the slopes. The conditions can hardly be topped.
"It almost seems like a view into another world: deformed figures stand on the slopes, deeply bent by the weight of their white load, and silently stare after the passing skiers. Behind the ghostly figures hide smaller trees, to which the wind has put a thick mantle of snow. The famous Snow Ghosts have become the trademark of Big White. The Snow Ghost Express transports riders to the Enchanted Forest, from where they slalom around the ghostly obstacles. Freeride at its best in southwest Canada!
When the ski area in British Columbia (BC) opened in the mid-1960s, it was known primarily for its excellent snow conditions. Those remain as good today as they ever were. Otherwise, the resort doesn't have much in common with the small ski resort of old days. Big White has developed into one of the most modern and family-friendly resorts for winter sports enthusiasts.
Big White: the largest ski in-ski out resort in Canada
From the hotel or the Chalet it goes directly on the runways – the largest ski in ski out Resort in Canada. There, beginners and advanced skiers in particular let off steam. But there are also plenty of alternative runs for experts to test their limits. Meanwhile, children prepare for their first mountain adventure in one of the numerous courses or have fun in the snow in other ways – the offer is huge.
How to end a wonderful day of skiing is up to everyone. Après-ski lovers get their money's worth just as much as those who prefer to make themselves comfortable over a good meal. However, the evening should not be too long. The Snow Ghosts are already waiting for the next appointment in the morning."
News
The small town of Fernie in southeastern British Columbia is known as Powder Town. This paradise for freeriders is home to the Fernie Alpine Resort at the foot of the imposing Lizard Range. Want to know what makes the resort

Born in the alps, at home in the mountains worldwide!