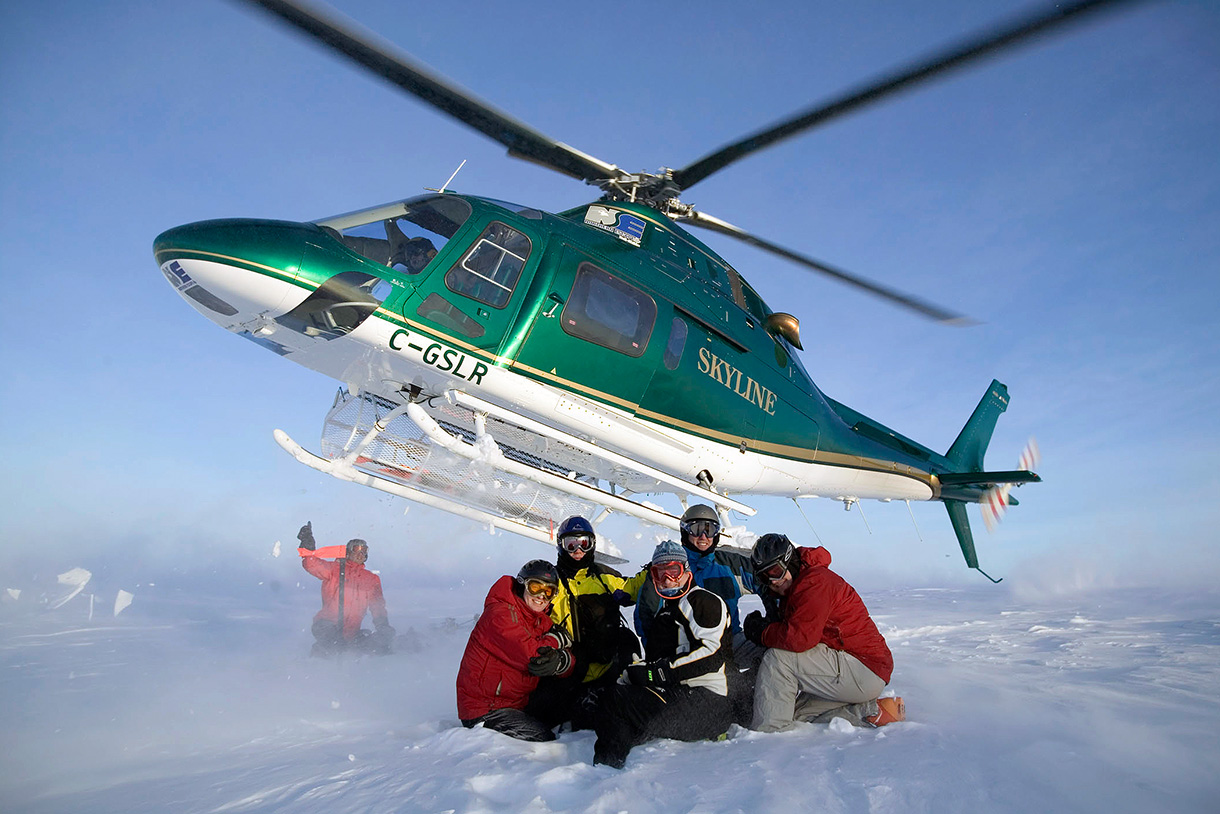 Heliskiing: All questions and all expert answers about heliskiing
"Am I good enough for heliskiing?
Basically, anyone can come to heliskiing who can master challenging slopes in the ski area. Many companies offer programs especially for beginners. Beyond that, it's worth checking your fitness a few weeks before the trip and building it up if necessary – the basics should be there.
Is there an age limit for heliskiing?
The average age of participants is around 50. This is also due to the fact that the fitness level required is not in the top sports range. Basically, heliskiing is suitable for all ages. Also for families, for whom some providers even offer special packages. The minimum age is usually 14 years, there are no upper limits.
Where do you go for heliskiing?
The biggest offer is in Canada, the motherland of heliskiing. In British Columbia, heliskiing was invented more than 50 years ago in its current form by CMH founder Hans Gmoser. Canadian Mountain Holiday (CMH) alone operates eleven lodges in British Columbia. In addition, there are other established operators such as Mike Wiegele, Selkirk Tangiers Helicopter Skiing, Last Frontier Heliskiing, Bella Coola Heliskiing, Northern Escape Heliskiing, Bearpaw Heliskiing, Great Canadian Heliskiing, RK Heliskiing and many more. But heliskiing is also available in the USA, Chile, Greenland, Iceland, Sweden, Norway, Georgia, Turkey and Kamchatka, the easternmost tip of Russia. The Himalayas in India are also a heliskiing destination.
Is the size of the heliski area important?
All heliski operators have exclusively staked ski areas. The size varies from the size of the ski area of the entire Trois Vallées (the largest ski area in the world) as the smallest heliski area, to the extent of the entire Swiss Alps as the largest area. With an average of just 20-30 people per week skiing this area, you can imagine that even the smallest heliski area in Canada has so many runs to offer that it would take many weeks to ski even close to all the runs multiple times.
However, size can become important when there is no snow for a long period of time, the avalanche danger is high in certain areas or the weather is bad. If this occurs, the terrain must be handled with care. Many slopes are then skied several times.
What does the typical heliski area look like?
There is no such thing as a typical heliski area. If you go to Chile, Alaska or Greenland, you will not find any treeskiing there, as everything is in alpine terrain. In Sweden and Norway, skiers and snowboarders can ski from a peak down to the seashore of a fjord. If it's off to Kamchatka, winter sports enthusiasts curve on long volcanic slopes. But again, Canadian heliski areas offer the widest and most interesting range of terrain types. Although there are significant differences in the distribution of terrain types and the associated snow quality.
When is the best time for heliskiing?
Almost every month has its advantages and disadvantages. In December and January, it is often cold and deep snow, and when conditions are worse, the more challenging treeskiing takes place in the forest. Towards the end of the season, the weather is better, but warm sunshine and snow are not an ideal mix. Then flights to the glacier are the order of the day.
What does heliskiing cost?
On average, you can assume that a complete heliskiing vacation consisting of
– Flight
– Six or seven days of heliskiing with about 32,000 meters of altitude gain
– Accommodation with full board
– Tips and incidentals at the lodge
– Transfer from the airport to the lodge and back
costs at least around 10,000 euros.
Prices vary depending on the provider and the number of meters of altitude traveled, the type of altitude accounting, the travel time booked and the flight costs.
Important: Decisive for the total price of heliskiing is above all the number of meters of altitude actually driven as well as the way in which the respective provider accounts for these meters of altitude.
How do you imagine a heliskiing lodge?
The level of a Canadian heliskiing lodge is usually on a good four star level. Depending on the provider, the lodges are usually located in the middle of the respective ski areas. Some can be reached by car, some only by helicopter. Both have their advantages and disadvantages.
The lodges are mostly built in Canadian style with a lot of wood. Especially in the last few years some providers have renovated their lodges and raised the standard again significantly. They now have saunas, hot tubs, individual small chalets and – with almost all providers – an excellent kitchen. Meanwhile, it has also been standardized that Internet and modern communication facilities are available. This was the absolute exception in the Canadian wilderness a few years ago.
Are there any differences in travel to the resorts?
In terms of heliskiing in Canada, the rule is two days of arrival and departure. On day one you fly from a European airport to Vancouver or Calgary. There you stay overnight and on day 2 you fly or drive to the lodge of the provider. Although there is often also the possibility with this kind of the journey that already on the arrival day and on their departure day ski can be driven. That is hinsichtlich of the far journey and the time difference not everyone's thing.
With almost all providers, the weekly packages are organized in such a way that the transfer to the lodge is organized and included in the price from the moment of arrival at the international airport. But even here there are differences that should be paid attention to.
Is heliskiing safe?
Very safe, although of course there is never absolute safety. But heliskiing operators do everything they can to minimize the risk for their guests. The snow and weather conditions are constantly checked, and the companies regularly exchange information on this. All winter sports enthusiasts are equipped with avalanche transceivers and can also book avalanche backpacks. The helicopters are in top condition, the pilots are masters of their trade and the highly trained guides know their areas inside out. If a guide does not trust a slope, he will not ski it. The difficulty is adjusted to the level of the group.
How often does heliskiing fly during the day?
Small groups fly more often than larger groups. High-performing groups are faster than beginners. Some heliskiing companies have a certain number of vertical meters in their program. Once the limit is reached, each additional flight or each 1,000 vertical meters skied costs extra. On average, skiers and snowboarders reach 30,000 to 50,000 vertical meters in a week – but it goes well beyond that.
What is the difference between ""small group heliskiing"" and ""large group heliskiing""?
Until a few years ago, large helicopters for ten guests plus two guides were standard (Large Group Heliskiing or Classic Heliskiing). In the meantime, many providers are increasingly using the much more powerful and flexible smaller helicopters with usually four to five guests and one or two guides (Small Group Heliskiing). Small Group Heliskiing usually involves more and usually a little faster skiing.
Dieses Video enthält Cookies von YouTube. Wenn Du das Video ansehen möchtest, bestätige bitte entsprechenden Cookies.
Is heliskiing also possible in bad weather?
Unfavorable conditions can be absorbed to a certain extent, for example by treeskiing. However, if wind and clouds do not allow a take-off, the helicopter remains on the ground (down days), because the rule is always: Safety first! Some heliskiing companies then switch to catskiing – if a snowcat is available. If there is no adequate substitute, the providers reimburse the loss. In the luxurious lodges it can be held out even a day. Many have a great wellness area, for example. If you still want to do sports, you can go cross-country skiing, snowshoeing, touring, to the gym or to the climbing walls that are available at some lodges.
What is the risk of ""Down days"" when heliskiing?
""Down days"" are days when the helicopters cannot fly due to extremely bad weather. Season and geographic location of the lodge are the determining factors in this regard. They range from 1.5 days per season to one per week. In principle, the risk of these days decreases as the season progresses. While it may snow for two or three days in January, this is relatively seldom the case in March. However, even then there is no guarantee. In general, there are much fewer down days in central BC in Canada than on the coast. Around Revelstoke you have to expect statistically only five down days in the whole season. In northern BC there are six down days per season. In the Coast Mountains, the average is 1.2 days per week. In Alaska the risk of down days is extremely high.
What should I bring for heliskiing?
That depends on the organizer. You have to bring your own ski or snowboard boots. Safety equipment are provided by the heliskiing company. When it comes to clothing, it is best to use the onion principle with not too thick layers. Finally it goes in the heated heli upward. And if you don't break a sweat on the descent, you're probably doing something wrong.
Can I listen to music while heliskiing?
Listening to music is strictly forbidden. For good reason. The guides must be heard at all times, and their instructions must be followed at all times and without delay. After all, it's about your safety!
What does a typical heliskiing day look like?
With every provider, the first day includes a safety briefing on the proper use of avalanche equipment as well as safe entry and exit from the helicopter. Although the basic use of the avalanche beeper is easy, each participant receives training for the emergency that can never be ruled out. After that, it's on to the helicopter. Here, too, the procedures and safe boarding and exiting are trained. As a rule, this briefing lasts about two hours. Before this instruction, the lead guide and his crew have already sat together at six o'clock, as on every other heliski day, studied the weather conditions, mapped out the terrain for the day and planned the runs.
After the safety briefings, it's off to heliskiing, group by group. Mostly in ten-minute intervals, depending on how far away the landing point of the first run is that day.
Around noon, a lunch is held in the wilderness. The guides set up a sort of picnic at a suitable spot where all the groups eat lunch together. There is almost always hot soup, tea and sandwiches. In addition, there are often cookies, candy bars and fruit. After this break of about 45 minutes, we continue until late afternoon. At the latest one hour before sunset is the end, so that one has enough time to react in case of an incident on the last descent. In winter, of course, the days are shorter than in spring.
At the end of the heliskiing day, the groups are flown to their lodge, where almost all providers have an après ski event with snacks. After that, the time for relaxation begins. Either in the hot tub or in the sauna. Massages are also offered. Usually at 7 p.m. there is dinner together with all the guests, the pilots and guides. Afterwards, people meet at the lodge bar, sit in front of the open fireplace with a good glass of wine or play a game of billiards or table football.
Heliskiers are usually not night owls after exhausting days. After 10 p.m., the ranks usually thin out. Heliskiing is an early night. After all, the next heliskiing day is waiting in just a few hours. And you should be fit. In order to be optimally prepared for the heli, almost all heliski lodges offer stretching sessions before breakfast. As a rule, the lodge's masseuses lead these warm-up sessions. Then there's a sumptuous breakfast and off we go. The next few days then run according to the wonderful motto: Eat, Sleep, Ski!
Can I wear heated gloves while heliskiing?
For safety reasons, many heliski operators refuse heated gloves. They fear that the heating wires in the gloves could interfere with the avalanche beacons, especially in search mode. However, there are also good alternatives. For example, the top models from Hestra are pleasantly warm even in icy temperatures.
Can I wear heated ski socks when heliskiing?
Yes, there are no problems, because the heating systems are far enough away from the avalanche beacon. Heated socks from Lenz are a boon on cold days and even a safety bonus. Firstly, they prevent frostbite on the toes and secondly, you ride better and therefore safer in the terrain with well-circulated, warm feet. We have tried Lenz heating socks even at minus 30 degrees in Canada while heliskiing and had no ice-cold feet. That's why we never ski without them anymore, especially since Lenz has significantly improved the fit of the socks.
Can I take my drone with me and film while heliskiing?
That depends. Where several helicopters are in the air, certainly not. But if you have booked private and thus a helicopter exclusively for a group, it may be possible. Talk to the heliski provider or the tour operator you booked with beforehand. Then you will hear what is possible. We have been able to use drones with boutique heliski operators in remote areas in Canada. It gives terrific pictures and videos!
Can I take my smartphone with me when heliskiing?
Yes, but please in flight mode. This way you can film and take pictures. But put the phone in a pocket at least 20 centimeters away from the avalanche transceiver to avoid any interference. Safe, is safe! And watch your cell phone: When the snow melts in spring, you'll find tons of lost smartphones at ski resorts and heliski areas.
Why should I bring a whistle to heliskiing?
When treeskiing, experienced freeriders always have a whistle with them. With it, you can draw attention to yourself very well in the forest in case of need. Whistles are better heard in the forest than shouts. Anyone who hears them knows immediately: there's an emergency. In the event of a fall into a so-called tree well, as the deep funnels around the trees are called in North America, such a small whistle can save lives. Loud metal referee whistles are best. We always carry one with a small carabiner on our jacket.
Am I welcome to heliski as a snowboarder?
Of course! Our snow surfers are also welcome guests at heliskiing. A tip from us: As a snowboarder, take a telescopic pole with you in your backpack. It helps if the group has to overcome a flat section. And that can happen when heliskiing in gigantic high valleys, even if the guides naturally try to take boarders into consideration when choosing the runs and lines. A telescopic pole definitely helps. And who likes to walk long distances through deep snow with a board under their arm?"
News
The small town of Fernie in southeastern British Columbia is known as Powder Town. This paradise for freeriders is home to the Fernie Alpine Resort at the foot of the imposing Lizard Range. Want to know what makes the resort

Born in the alps, at home in the mountains worldwide!
In der Nähe
Heliskiing: All questions and all expert answers about heliskiing