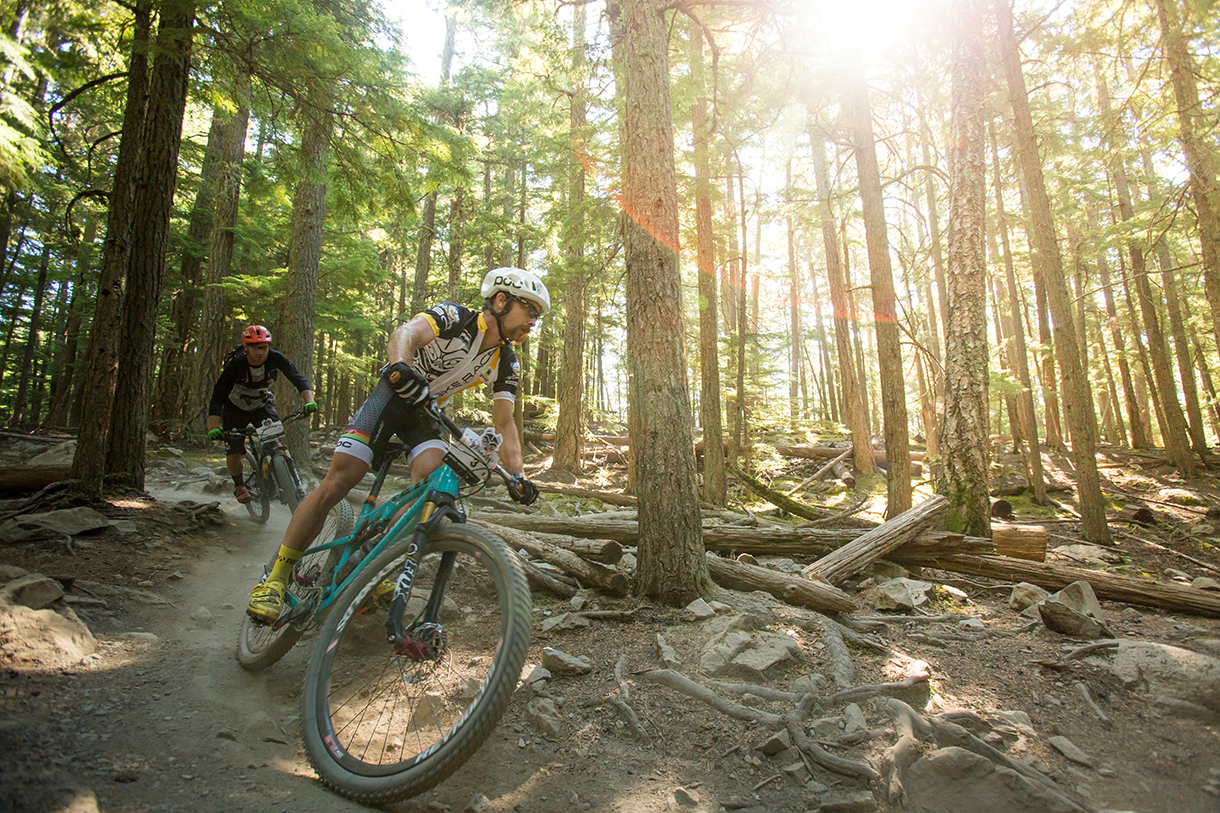 Whistler in summer: a mountain biker's paradise in British Columbia
When it comes to skiing, Whistler is an institution. Powder freaks from all over the world come to western Canada every year to experience the fine powder snow of this unique ski resort. In Whistler, winter may be peak season, but it's far from the end of the line. Summer in Whistler is also unbeatable. Especially for mountain bikers!
Imagine this stunning mountain landscape. The same hills that become a playground for thousands of skiers and snowboarders in the winter. Insane off-piste drops, wooded areas perfect for treeskiing and even the possibility to go heliskiing. Just Whistler! Only a few kilometers north of Vancouver lies this dreamlike place for deep snow fans. But what happens when the snow melts, the temperatures rise and nobody races through the forests on two boards anymore? Then the mountain bikers come to Whistler!
MOUNTAINBIKING IN WHISTLER IS DIFFERENT
For one thing, there are the breathtaking nature trails that lead through the wild landscape, the beautiful valley and over the narrowest and most exciting trails of Whistler-Blackcomb. But what really makes Whistler unique for mountain bikers is the unique bike park, which was only completed in 2010 and has been attracting countless cracks and newbies ever since. Anyone who has never shot down a slope on two wheels before will learn to love it here at the latest.
Nowhere else in North America do bikers have such a large playground. 70 perfectly shaped trails run along the slopes of Whistler, all of them accessible via lift. There's plenty of room and enough runs for every skill level. Whistler Mountain is divided into three zones: The Fitzsimmons Zone is located at the foot of Whistler Mountain and is home to trails of all levels of difficulty. Especially beginners can let off steam here.
FAT DROPS : EVEN MOUNTAIN BIKING PROS WILL BE CHALLENGED
The Garbanzo Zone is more for advanced bikers with mostly difficult trails, where it can get a little faster. On the Peak Zone there are just two trails. Both are really challenging and should only be ridden by those who have full confidence in their skills and experience. Fat drops and daredevil turns are the hallmarks of this zone.
The difficulty levels of the trails are clearly posted. On the green trails you can try out and mature to the technique. The trails are straight and smooth, there is no reason to be afraid. The blue routes are already much more exciting with smaller and larger downhill sections. Here and there is a small ramp to try out how it feels to fly on two wheels.
WHISTLER IS FOR REAL EXPERTS ON THE MOUNTAIN BIKE
But the most fun in Whistler is had by those who really know how to ride. The slopestyle trails are of another order, located further up the slopes of Whistler Mountain. The black and red runs (note: red runs are advertised as pro lines) offer quite a few rock gardens, berms, jumps and wallrides. Sounds like a foreign language? Then it's better this way: rocky and extremely steep sections, sharp and fast turns, jumps as many as you want and vertical wooden curve elevations everywhere you need them. That's mountain biking in Whistler.
News
The small town of Fernie in southeastern British Columbia is known as Powder Town. This paradise for freeriders is home to the Fernie Alpine Resort at the foot of the imposing Lizard Range. Want to know what makes the resort

Born in the alps, at home in the mountains worldwide!
In der Nähe
Whistler in summer: a mountain biker's paradise in British Columbia