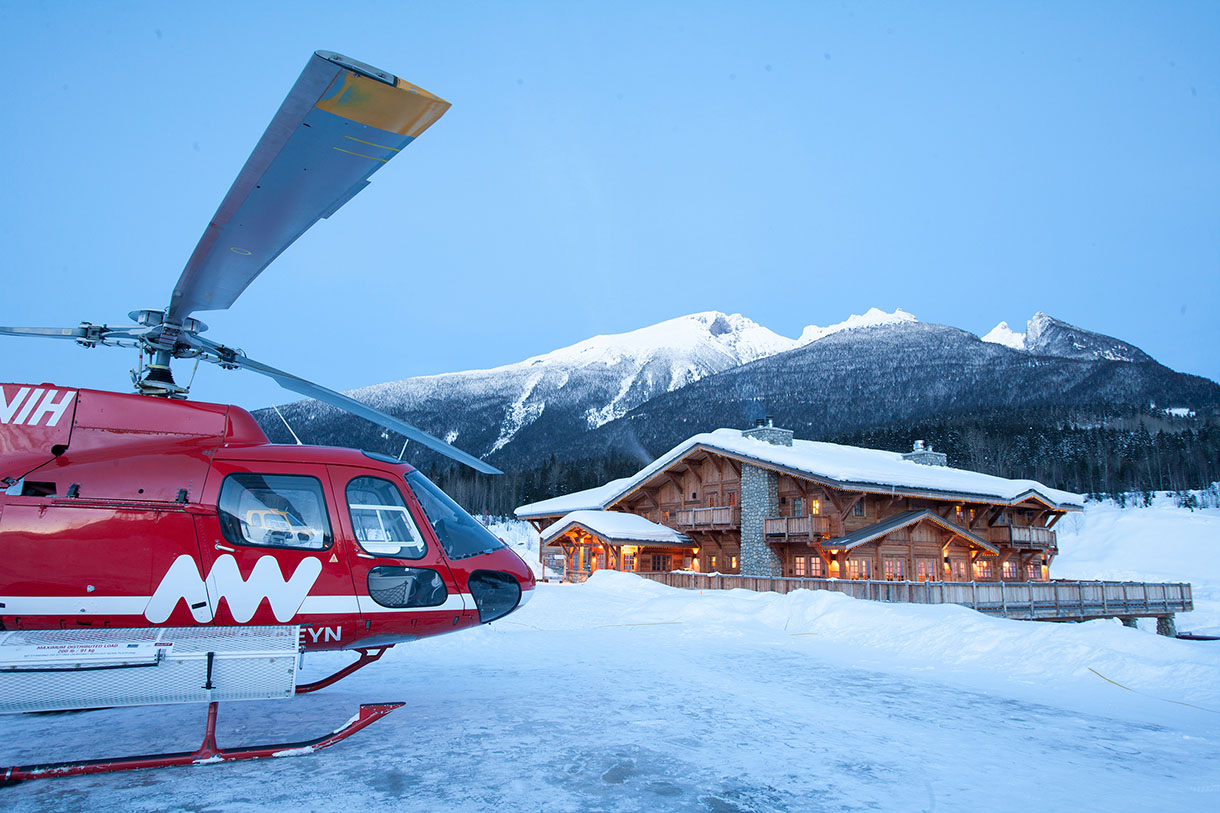 Mike Wiegele Helicopter Skiing: Albreda Lodge
Heliskiing with Mike Wiegele alone is unique. However, the stay at the ultra-luxurious Albreda Lodge makes the heliski trip to Canada the ultimate experience.
45 kilometers north of Blue River, from where Mike Wiegele Helicopter Skiing flies the majority of its guests to heliski in the Monashees and Cariboos, lies the operator's jewel. Albreda Lodge is the ideal base to fly to the northern part of Mike Wiegele's heliski terrain. Guests can choose the same packages as in Blue River.
With its 17 private rooms and one two-bedroom suite, the lodge accommodates up to 20 people. Its location provides quick access to northern terrain. Unlimited Vertical is the keyword here, because heliski fans only pay for the service package they have booked. There is no surcharge for additional vertical meters. Trips of well over 5,000 vertical meters per day are not uncommon by any means.
Pure luxury in Albreda with Mike Wiegele Helicopter Skiing
Handmade from huge lumber trunks, Albreda Lodge is a reminder of the typical huts of the Alps, although of the luxury variety. So for some, the accommodation may be a piece of home, but on the countless slopes in the area of 1,000 peaks, you become an explorer every day anew – and then a gourmet in the evening. Because no heliskiing lodge in Canada cooks better than Mike Wiegele.
The exclusive private or semi-private all-round packages are ideal, for example, for large groups who want to be among themselves during a heliskiing week. In addition, Albreda Lodge has a fitness room, sauna, climbing wall and its own ski store. In addition, there is the wellness service offered by the in-house massage therapist. So for relaxing hours after an exciting heliski day is provided."
News
The small town of Fernie in southeastern British Columbia is known as Powder Town. This paradise for freeriders is home to the Fernie Alpine Resort at the foot of the imposing Lizard Range. Want to know what makes the resort

Born in the alps, at home in the mountains worldwide!
In der Nähe
Mike Wiegele Helicopter Skiing: Albreda Lodge