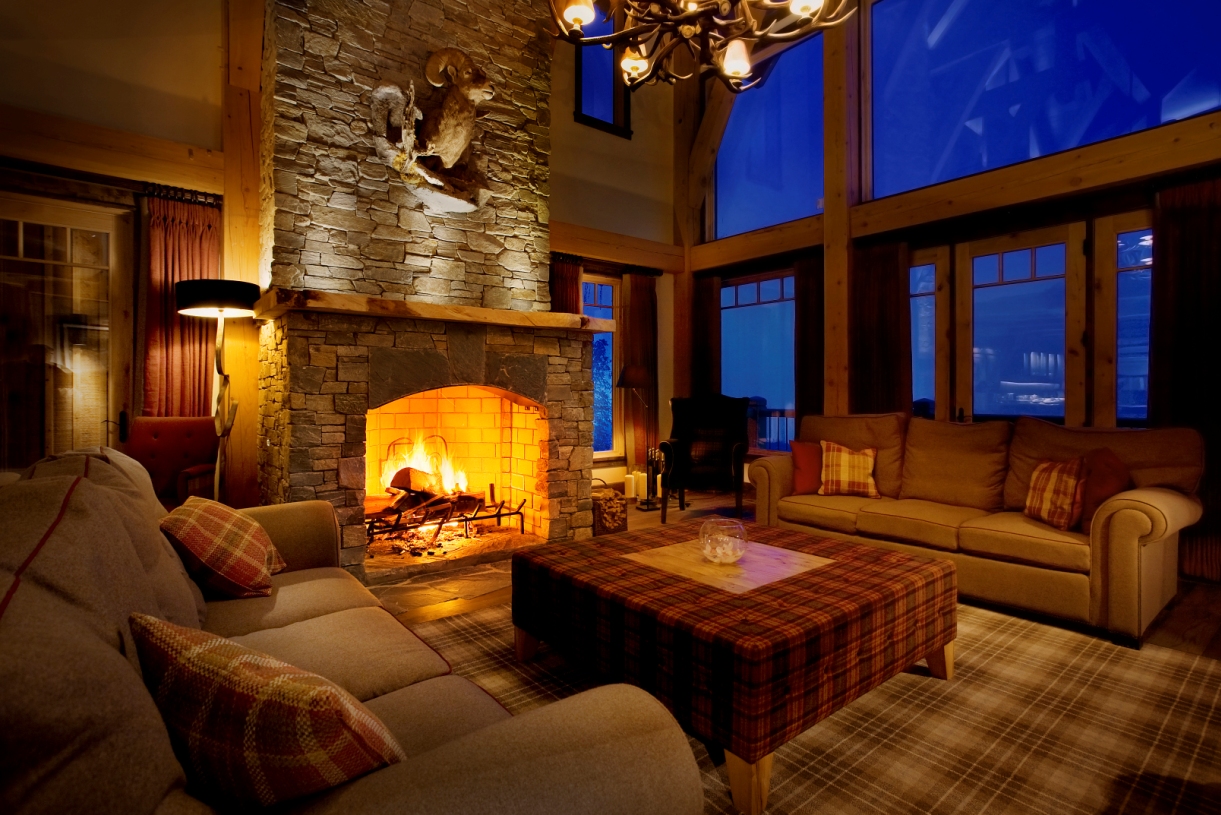 CMH Bighorn
In addition to Revelstoke Lodge, CMH also flies out of Bighorn Lodge for heliskiing in the Selkirks and Monashees. The lodge is the essence of luxury and not only for heliski riders a grandiose accommodation.
The Kirkland brothers have realized their dream with the Bighorn Lodge. The dream of a luxurious heliski accommodation in one of the most beautiful mountain regions of Canada. And CMH knows that too. That's why the heliski pioneer also flies its guests from the lodge's own helipad to the Selkirks and Monashees for heliskiing.
The 5-star lodge is located just a few minutes from Revelstoke and impresses with this great location alone. On downdays, when the helicopter can't take off, you simply switch to the Revelstoke ski resort, where there are freeride spots galore. In addition, there is the comfort of the Bighorn Lodge. No long walks are necessary, it's from the ski cellar to the heli outside the door and up the mountain.
The interior of the lodge is rustic, alpine style with lots of wood and high ceilings. Upon entering the three-story lodge, the feel-good atmosphere is perfect. Whether it's the fireplace in the huge living room and lounge, the hi-tech cinema or the outdoor whirlpool, there's simply nothing lacking.
In terms of cuisine, Bighorn really leaves nothing to be desired. Celebrity chef Peter Hughes has already conjured up culinary masterpieces on Siberian volcanoes, and during the heliski week in Bighorn you can also look forward to the unique dishes of the Brit, who has already cooked for David Bowie or the Red Hot Chili Peppers, among others. For the appropriate strengthening for the heliski trip would also be provided."
News
The small town of Fernie in southeastern British Columbia is known as Powder Town. This paradise for freeriders is home to the Fernie Alpine Resort at the foot of the imposing Lizard Range. Want to know what makes the resort
News
The small town of Fernie in southeastern British Columbia is known as Powder Town. This paradise for freeriders is home to the Fernie Alpine Resort at the foot of the imposing Lizard Range. Want to know what makes the resort
Facebook
Partner