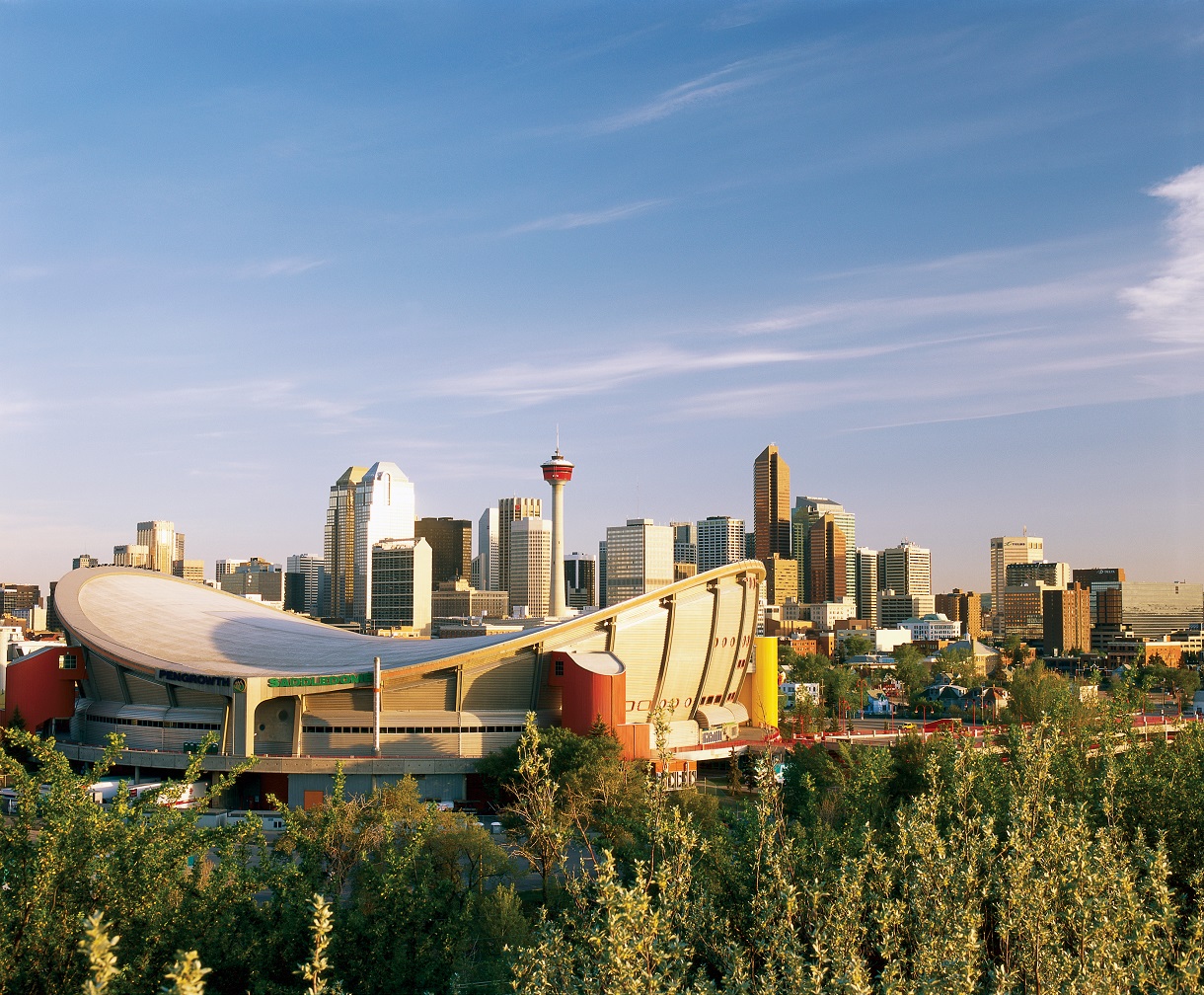 Calgary – between the prairie and the Rocky Mountains
Those who come to Calgary experience a vibrant oil stronghold. The social center of the province of Alberta offers the optimal start for a heliski trip in the heights of the Rocky Mountains.
Calgary is much more than a stopover on the way to the perfect winter vacation. Be sure to plan some time to explore the variety of bars, restaurants and attractions.
Calgary is more than just a stepping stone to the Rocky Mountains
In an unfamiliar city, travelers should first get an idea of their new surroundings. Calgary has the perfect place for that: the Calgary Tower. On the 360-degree observation deck of the 190-meter-high tower, you have an impressive view over the city and the surrounding prairies all the way to the Rockies. If you take a seat up there in the SKY 360 restaurant, you can even enjoy the panoramic view while sitting down. The restaurant is constantly circling and takes 45 minutes for a full rotation at lunchtime and an hour in the evening. By the way, you can also have an excellent meal there.
Calgary is the ideal place for gourmets and sports freaks alike.
This also applies to a large number of other restaurants. Calgary's culinary scene is developing rapidly and now enjoys an excellent reputation throughout Canada. First the food is served, then it's off to one of the many bars. From the piano bar to the western bar to the sports bar, everything is on offer. The sports bars are always busy when the local field hockey team, the Calgary Flames, has a game. The team is one of the best in the NHL, so it's not easy to get tickets for the home games. However, if you do somehow manage to get them, don't miss the opportunity!
One of the best shopping opportunities is right near the airport, only about 15 minutes away. CrossIron Mills is a huge shopping center with more than 200 brand stores and outlets. There you should also equip yourself with a cowboy hat, if you come to Calgary in summer. In July, the Calgary Stampede takes place, which is also known as ""The Greatest Outdoor Show on Earth"". During the ten-day western festival, events are held all over the city, but the highlight is without a doubt the rodeo.
News
The small town of Fernie in southeastern British Columbia is known as Powder Town. This paradise for freeriders is home to the Fernie Alpine Resort at the foot of the imposing Lizard Range. Want to know what makes the resort

Born in the alps, at home in the mountains worldwide!
In der Nähe
Calgary – between the prairie and the Rocky Mountains