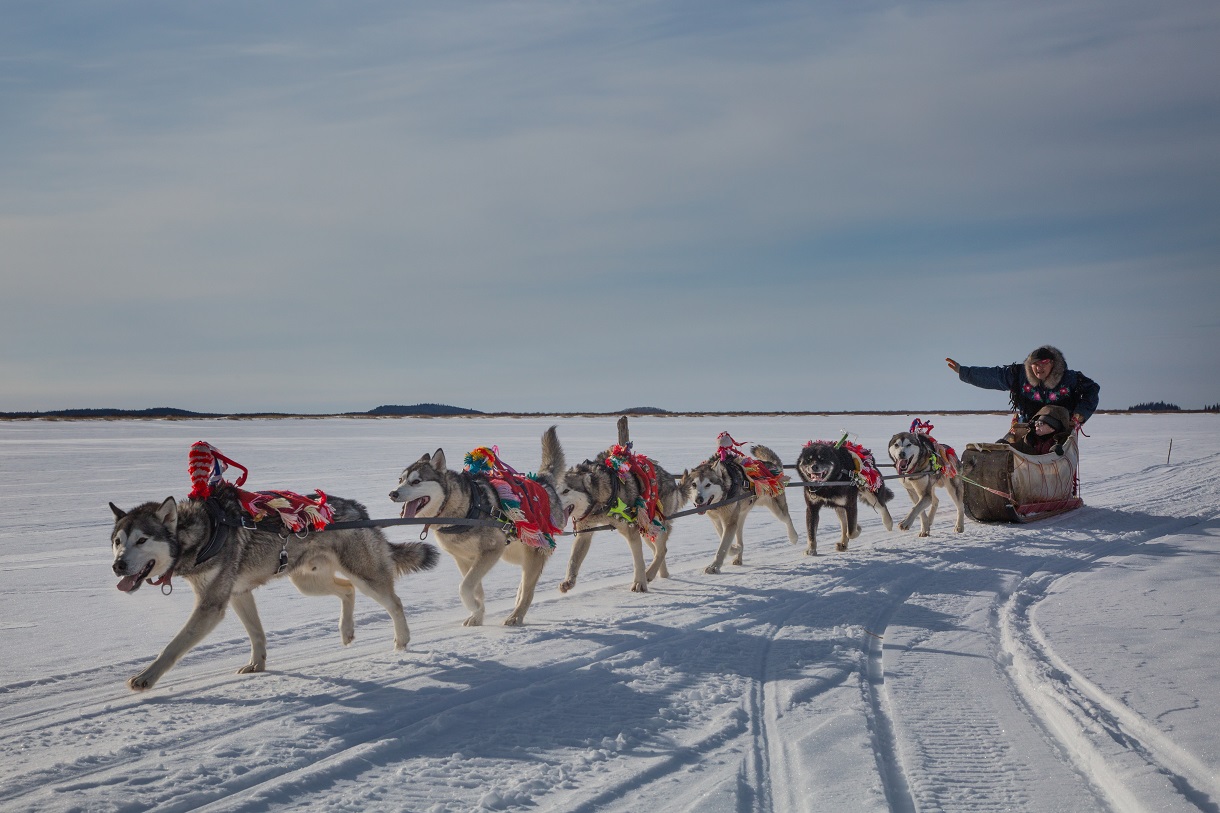 Dog sledding in Sunshine Meadows
They run and run. Even if you give them the order to stop, they would prefer to keep running. The huskies of a dog sled are impressive athletes. Up in the mountains of Sunshine Meadows, they feel right at home and that rubs off on the sled guests as well.
The sled driver gives the signal and immediately the dogs start moving. The wind whizzes around your ears and blows away the loose flakes on your sleeves. Snow crunches under the runners and the dogs pant as the magical winter landscape of Sunshine Meadows, a high plateau on the continental divide between Alberta and British Columbia, passes by. Whether romantically as a couple or with a group on an incentive, a dog sledding tour in Banff, Alberta province is unforgettable!
WINTER INCENTIVES IN BANFF: DOG SLEDDING IN SUNSHINE MEADOWS
The sled leader, called musher in professional circles, drives ahead with his team. The other dogs always follow the leader of the pack in front. He gives the direction and the speed. Who stands behind on the sleigh, experiences an unforgettable journey in traditional Canadian way, an authentic experience in Alberta. Of course, the tour is more comfortable snuggled up in the warm buffalo skin on the seat. This way you can enjoy the ride through the winter wonderland completely relaxed. The great scenery along the route over the Spray Lakes in Kananaskis Country invites you to dream.
.
DOG SLED TOUR OVER SPRAY LAKES
From Canmore, participants are taken to Spray Lakes for the two-hour tour, where they meet the animals and the sled guide. Along the way there will be a break with delicious snacks, hot chocolate and a breathtaking view of the peaks around Sunshine Meadows.
News
The small town of Fernie in southeastern British Columbia is known as Powder Town. This paradise for freeriders is home to the Fernie Alpine Resort at the foot of the imposing Lizard Range. Want to know what makes the resort
News
The small town of Fernie in southeastern British Columbia is known as Powder Town. This paradise for freeriders is home to the Fernie Alpine Resort at the foot of the imposing Lizard Range. Want to know what makes the resort
Facebook
Partner