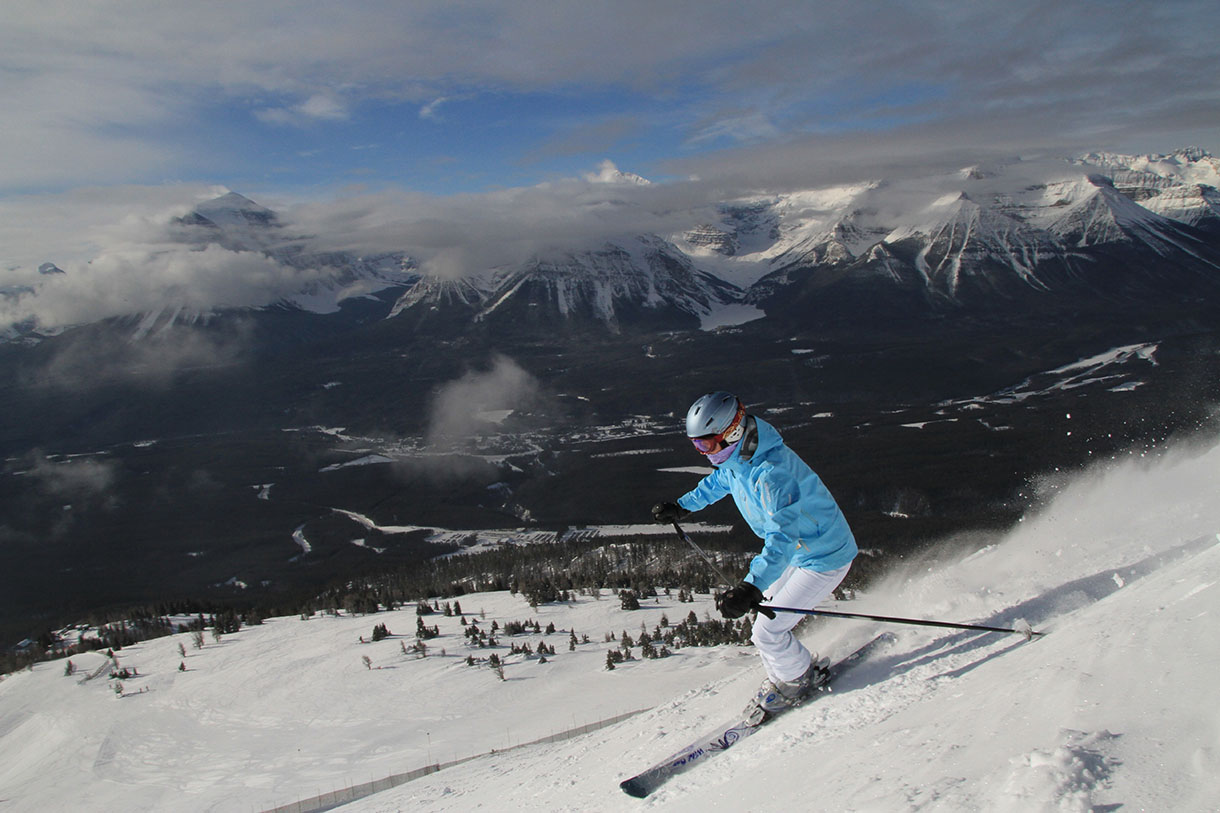 The Lake Louise Ski Resort: Great ski area, fantastic landscape and top hotels
Canada like a picture book! Alberta's largest ski area is for many also the most beautiful in the province. Challenging, varied and typically Canadian.
"Lake Louise is one of the top winter sports destinations in North America. The resort in the Rocky Mountains is mentioned in the same breath as Whistler, Vail and Aspen. Yet the resort actually consists of just a crossroads, a gas station and a few stores. Lake Louise is pure nature, skiing and snowboarding. Strict building regulations prevented a wild growth in the Banff National Park. There are only a few accommodations in Lake Louise, but two very special ones: the Fairmont Hotel Chateau Lake Louise below the impressive Victoria Glacier and the Relais & Chateau Post Hotel run by two expatriate Swiss.
If you stay at one of the two top hotels, you are only a few minutes away from the impressive ski area. From Banff, it's about 45 minutes. Looking down from the top of the ski area, you can see the seemingly endless expanse of the Rocky Mountains. Enormous forests, lakes, rivers, glaciers and mountain peaks can be seen. The front of the mountain offers wide pleasure runs and the fast racing slopes where the best Super-G racers and downhillers of the Alpine Ski World Cup rush over at the beginning of the season.
Lake Louise: Freerider paradise with tree skiing for beginners
The Powder Bowls on the backside of 2672-meter Mount Whitehorn are a paradise for freeriders and anyone preparing for heliskiing or catskiing in Lake Louise. Ideal for this is also a trip to the forests below the Ptarmigan chairlift. The area with the beautifully widely spaced trees is a perfect practice area to get used to tree skiing.
After tree skiing, take the Larch lift up to the Rock Garden. This is an impressive off-road run where you slalom through huge boulders that once thundered down the slope in a gigantic landslide. At the foot of the Rock Garden, the quaint Temple Lodge awaits. This relatively small lodge with a sun terrace is a favorite of locals. Most other restaurants and eateries are located in the huge log cabin lodge at the base of the ski mountain.
Lake Louise offers a lot of slopes and even more terrain. If that's not enough, make side trips to Norquay and Sunshine. All three ski areas near Banff are accessible with one ski pass."
Insider-Tipp
After skiing to the Fairmont Hotel Chateau Lake Louise. Tea time at blue hour in the lounge is a highlight. With tea, coffee or a drink, you sit there by the fireplace and look out over the frozen lake and the magnificent mountains.
News
The small town of Fernie in southeastern British Columbia is known as Powder Town. This paradise for freeriders is home to the Fernie Alpine Resort at the foot of the imposing Lizard Range. Want to know what makes the resort
News
The small town of Fernie in southeastern British Columbia is known as Powder Town. This paradise for freeriders is home to the Fernie Alpine Resort at the foot of the imposing Lizard Range. Want to know what makes the resort
Facebook
Partner
In der Nähe
The Lake Louise Ski Resort: Great ski area, fantastic landscape and top hotels