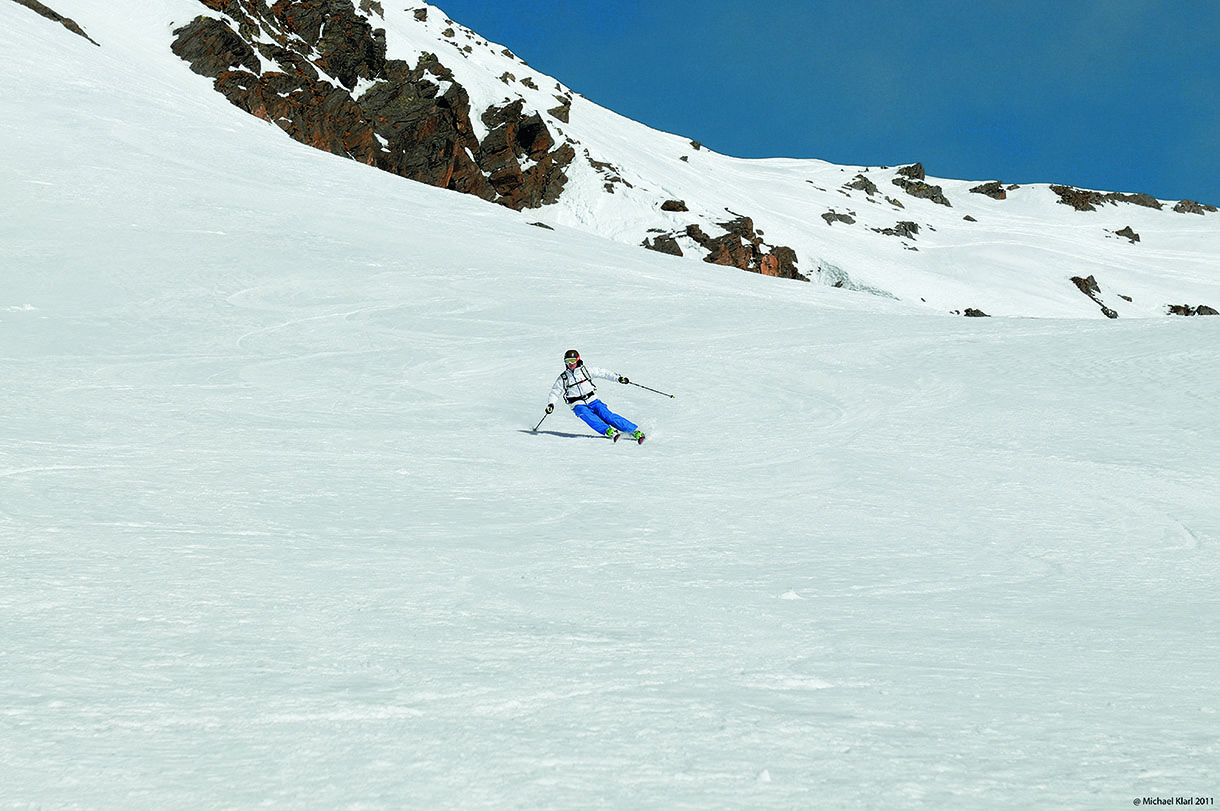 Turning under icy snow conditions
Loss of control, no grip and that infernal scratching – a turn on an ice slab is unpleasant in any case, but it doesn't necessarily have to end badly! "Build snow resistance and pressure where there is no grip" – probably the greatest difficulty for any skier. SKI KANADA, SKI USA and the German Ski Instructors Association (DSLV) explain what to do if a ride over icy snow is unavoidable.
Turning on icy slopes explained simply
The first basic requirement for surviving an icy day in the Selkirks or Rockies without injury is the equipment. The boot should be particularly tightly closed, so that the power from the two shoes can be ideally transferred to the ski.
The right ski
– rather narrower (waist increases standing area and stability, allows more effective edging
– strong and larger edging movements from the legs -> minimizes contact surface and increases edge pressure
– stronger and dominant outer ski load -> prevents slipping over the inner ski, ensures higher pressure build-up
Skiing technique
When changing turns, the skis should be turned on with a delay, you can use the pole as a support, turning and rhythm aid. The body's center of gravity should lift only slightly. In cornering: as soon as you cross the fall line, tilt your foot and knee (= strong edging) and reduce speed with a short deep movement (= high loading) for maximum pressure build-up – because only a dynamic, punctual and central pressure build-up on edged skis creates grip. As in steep terrain, the upper body remains particularly upright, stable and oriented towards the valley.
Back to the beginning Freeriding made easy: making turns
For even more information on skiing and snowboarding technique topics, check out the curricula of the German Ski Instructors Association:
DSLV Lehrplan – Skifahren einfach, 2012, ISBN 978-3-8354-0869-2
DSLV Lehrplan – Freeriden einfach, 2012, ISBN 978-3-8354-0872-2
DSLV Lehrplan – Snowboarden einfach, 2012 ISBN 978-3-8354-0870-8
News
The small town of Fernie in southeastern British Columbia is known as Powder Town. This paradise for freeriders is home to the Fernie Alpine Resort at the foot of the imposing Lizard Range. Want to know what makes the resort

Born in the alps, at home in the mountains worldwide!