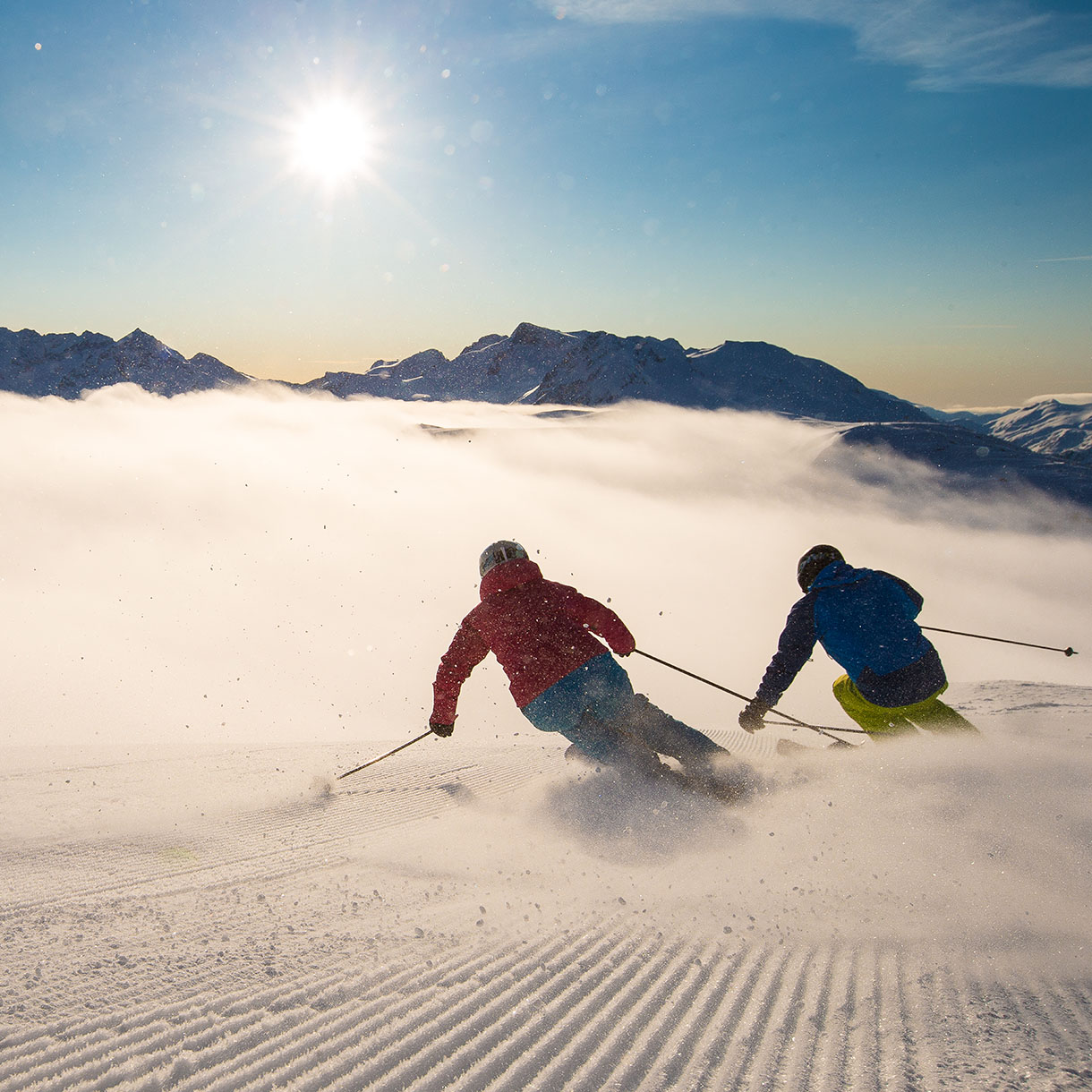 How to make ski vacation in Whistler really fun
Whistler offers endless possibilities – if you can use all the possibilities of the ski resort in western Canada properly. SKI KANADA makes ski vacationers fit for British Columbia's top ski resort.
Whistler-Blackcomb is North America's largest ski resort
""Experts only!"" The yellow sign with the two black diamonds is both a warning and a promise. Most ski vacationers carefully slide back onto the groomed slopes after an anxious look down into the nearly vertical Couloir Extreme. ""Yet this is where the fun really begins,"" says Darryl Bowie. Darryl is one of the coaches at Extremely Canadian, which turns good skiers into terrific ones in Whistler.
Whistler-Blackcomb is the largest ski area in North America. With more than 30 square kilometers of skiable terrain, over 200 runs wind their way down from the two peaks of Blackcomb Mountain and Whistler Mountain, both around 2,200 meters high, to the town. 1,609 meters of elevation gain will make even steeled thighs glow.
Getting the most out of Whistler with Extremely Canadian
The alpine venue of the Vancouver 2010 Olympics is a gigantic playground with endless possibilities on and especially off the slopes. But to tap Whistler's full potential, you have to know the mountains and know how to do something. Like the coaches at Extremely Canadian, who have been sharing their knowledge and skills with skiers and snowboarders from around the world for more than 20 years.
Freeskier Peter Smart and his wife Jill Dunnigan came up with the idea in 1994 to teach ordinary skiers in Whistler how to ski the steeps and powder slopes of the Coast Mountains in the style of ski movie heroes. Not all local powder junkies were thrilled about giving Whistler's insider tips to strangers. But ski pro Peter and organizational genius Jill were unstoppable.
Darryl Bowie makes everyone a better skier
Soon, they needed reinforcements. Peter brought his buddy Greg Dobbin onto the team. The former ski racer from Quebeck Province was famous in Whistler as a ""mountain goat"" for scrambling around on peaks that others thought were unrideable. When Warren Miller star Wendy Brookbank joined the team, the coaching duo became a trio. In the meantime, more than 50 guides and coaches work for Extremely Canadian during the high season. The team is a colorful mix. In addition to freeriders like Wendy and Peter, there are young coaches from the racing world like Gillian McFetridge or freestyle pioneers like Darryl from the generation of the Garhammer brothers Ernst and Fuzzy. Darryl already has thousands of ski days in his bones, but when he looks down a steep slope with guests below the imposing Blackcomb Peak, his eyes still sparkle as if he were standing in this skier's paradise for the first time.
Yesterday, Couloir Extreme would have been hell for his clients. ""I wouldn't have known how to get down there in one piece,"" Neil Tilley admits bluntly. The Englishman, who lives in Vancouver, is a very good skier, but for the most extreme ""Double Black Diamonds,"" as the most difficult descents in North America are called, it has not been enough so far – until Steep Camp with Gillian and Darryl.
""To master such descents, you need the right technique and the necessary self-confidence,"" explains Darryl. Extremely Canadian's coaches teach both in their one- or two-day camps. First, they ski with all participants in a crowd on a moderately difficult slope. Then the guests are divided up according to skill level. On average, there is one coach for every three guests. This allows very intensive training.
Sometimes Jill even sends out extra coaches. What sounds like business madness pays off. ""Thirty percent of our guests book again, 60 percent come on personal recommendation,"" Jill explains.
The guests' motivations are very different. ""Many locals and Whistler regulars come because they can't keep up with their kids,"" says Jill, ""while Europeans are more interested in insider tips and technical tricks so they can take advantage of the full range of Whistler-Blackcomb,"" adds Darryl.
To do this, they first lay the technical foundations in the camps. What is the best way to master the often extremely steep, rock-strewn entrances? What are the tricks on steep slopes and in deep snow? Gillian and Darryl explain, ski ahead, correct. Almost invisibly for the participants, they wander over both mountains and steadily increase the difficulty of the descents. The video analysis of what they have learned gives them additional confidence for the highlight of each camp: mastering one of the slopes marked ""Experts only"" around the Horstman Glacier on the Blackcomb side or in the Whistler Bowl.
Neil, for one, is thrilled after Steep Camp. ""Now I'm skiing slopes in Whistler that I would never have dared to go into before,"" the Englishman exults. Next, he plans to tackle one of the backcountry camps. None other than the longtime president of the Canadian Mountain Guides Association (ACMG), Keith Reid, has developed the programs for touring skiers and freeriders outside the secured ski area in Whistler for Extremely Canadian.
Whistler's surrounding countryside is terrific backcountry terrain for those who can assess alpine hazards and carry the necessary gear, including avalanche airbags. ""The snow in the Coast Mountains is a little wetter than in the Rockies. The snowpack is therefore more stable, so you can ski very steep slopes depending on the situation,"" Darryl explains.
To have fun off-piste, you don't have to leave the secured ski area in Whistler. Unlike in the Alps, in North America you're allowed to ski anywhere alongside the slopes within the ski area boundaries – even through forests. Every day, guides at the ski resort offer free orientation tours. The meeting point is the Roundhouse, the hub of Whistler Mountain. Especially on fresh snow days, it's worth getting tips for the best powder runs from the guides.
And new snow days are more frequent in Whistler than in most other ski resorts in Canada. About twelve feet of snow a year trickles down on the two mountains connected by the famous Peak 2 Peak gondola. With a span of 3,024 meters and a height of 436 meters above Fitzsimmons Creek, the structure is the world's longest and highest cable car suspended freely above ground.
Whistler is a ski resort of superlatives
Whistler is rich in superlatives. The challenging terrain, enormous amounts of snow and cool scene attract more freeride professionals than any other ski resort in North America. In addition to the ski area, vacationers especially appreciate the resort, which is decorated with hundreds of thousands of colorful lights. With more than 200 stores, over 150 restaurants and bars, and dozens of top hotels in and around the expansive pedestrian zone, the ski-in ski-out resort offers more choice and variety than a big city.
Sonja Lercher agrees. She once came to Canada because of love. Her boyfriend is no longer there, but the love of the country has remained. More precisely: to Whistler.
The German has lived near the famous ski resort since 2004. When she was still keeping her head above water by planting trees, the foreman at the time advised her, ""If you really want to ski, go to Whistler."" Sonja took this tip to heart. And hasn't regretted it to this day.
Sonja Lercher came for love and stayed for Whistler
The giant with its two mountains connected by the Peak2Peak gondola, Whistler Mountain and Blackcomb, offers endless possibilities. Especially if you're spared the equally dreaded but fortunately rare warm spells during which it can rain all the way to the peaks. ""Pineapple Express"" is what Canadians call this weather situation when warm, humid air from the subtropics flows high into the north.
Proximity to the Pacific is sometimes a curse, but mostly a blessing. In recent years, Whistler has set snow records of more than 12 feet per season. ""But even in an average winter, there's nothing better than Whistler,"" says Sonja. And the German should know. After all, as a former Freeride World Tour athlete, she's been around a lot.
In Whistler, she belongs to the illustrious circle of Extremely Canadian coaches, who turn good skiers into very good ones and very good ones into terrific skiers in one- or two-day camps. In their ""Steep Skiing Camps"", they introduce their course participants to deep snow and steep wall skiing, and reveal tips and tricks. Those who are prepared to leave their comfort zone take giant steps. Without taking incalculable risks. The beating of the heart at entrances to Double Black Diamond couloirs such as Pakalolo or Saudan is part of it. ""Afterwards, however, you go into challenging descents with more know-how and self-confidence – and that brings more safety,"" emphasizes Sonja
Perfect heliskiing preparation: Extremely Canadian
Anyone who has explored Whistler-Blackcomb with Sonja or her colleagues is well prepared for heliskiing. The breathtaking panorama and the unique feeling of happiness when skiing through knee-deep powder snow are the only things that will get your pulse racing. North of Whistler there are almost a dozen top heliskiing providers.
Whistler is the undisputed number one in Canada. It's no wonder that Vail Resorts has seized the opportunity to absorb its biggest competitor. The ski company from the U.S. state of Colorado bought Whistler-Blackcomb in 2016. Almost one billion dollars is said to have flowed. Vail Resorts wants to make Whistler-Blackcomb even more attractive, a spectacular skywalk above the Whistler Bowl is to open this winter. From now on, the Epic Pass will also be valid in Whistler. The season pass of the Vail Resorts will make Whistler more popular, especially with US Americans. Whistler is Canada's après-ski hotspot not only because of the many party-loving Yanks.
If you want to go cat- or heliskiing the next morning, you should not drink too much in the evening in the ""Garibaldis"" or the ""Longhorn Saloon"". For many Europeans, Whistler is also something like the gateway to the wilderness. ""Whistler is the perfect warm-up destination for heliskiers,"" Darryl confirms. Whether you take off for just one day at Whistler Heliskiing, or whether you go on to a heliskiing lodge for a few days or a whole week, it doesn't matter. The crucial thing for Europeans is not to get off the plane and into the helicopter right away with jet lag. Only about two hours from Vancouver airport, Whistler is ideally located on the way to the world's most exclusive skiing experience.
Whistler is the gateway to the heliskiing world
Northern Escape Heliskiing, Bella Coola Heli-Sports and also the two lodges of Last Frontier Heliskiing, which are located far in the north of British Columbia, can be reached quickly via Vancouver. So is Tyax just around the corner and Bearpaw Heli-Skiing south of Prince George. Although Bearpaw is one of the youngest heliskiing lodges in BC, as a boutique provider it is already established in the top group. Among this elite, of course, are the many lodges of heliskiing creator and market leader Canadian Mountain Holidays (CMH) and Mike Wiegele in Blue River.
Wiegele's resort, the largest single heliskiing village in the world, is a convenient six-and-a-half-hour drive from Whistler. By Canadian standards, that's a stone's throw. BC has a population of only about 4.6 million, but it's as big as Germany, Austria, France, the Netherlands and Belgium combined. The drive over Duffey Lake Road to Wiegele is a pleasure. It's the ideal rest after the thrills of Whistler's spectacular off-piste runs. The ""Experts Only"" slopes at Whistler are undoubtedly challenging. But with the help of Extremely Canadian's ski coaches, you can get your nerves under control. And then you can really enjoy Whistler to the fullest.
News
The small town of Fernie in southeastern British Columbia is known as Powder Town. This paradise for freeriders is home to the Fernie Alpine Resort at the foot of the imposing Lizard Range. Want to know what makes the resort

Born in the alps, at home in the mountains worldwide!
In der Nähe
How to make ski vacation in Whistler really fun