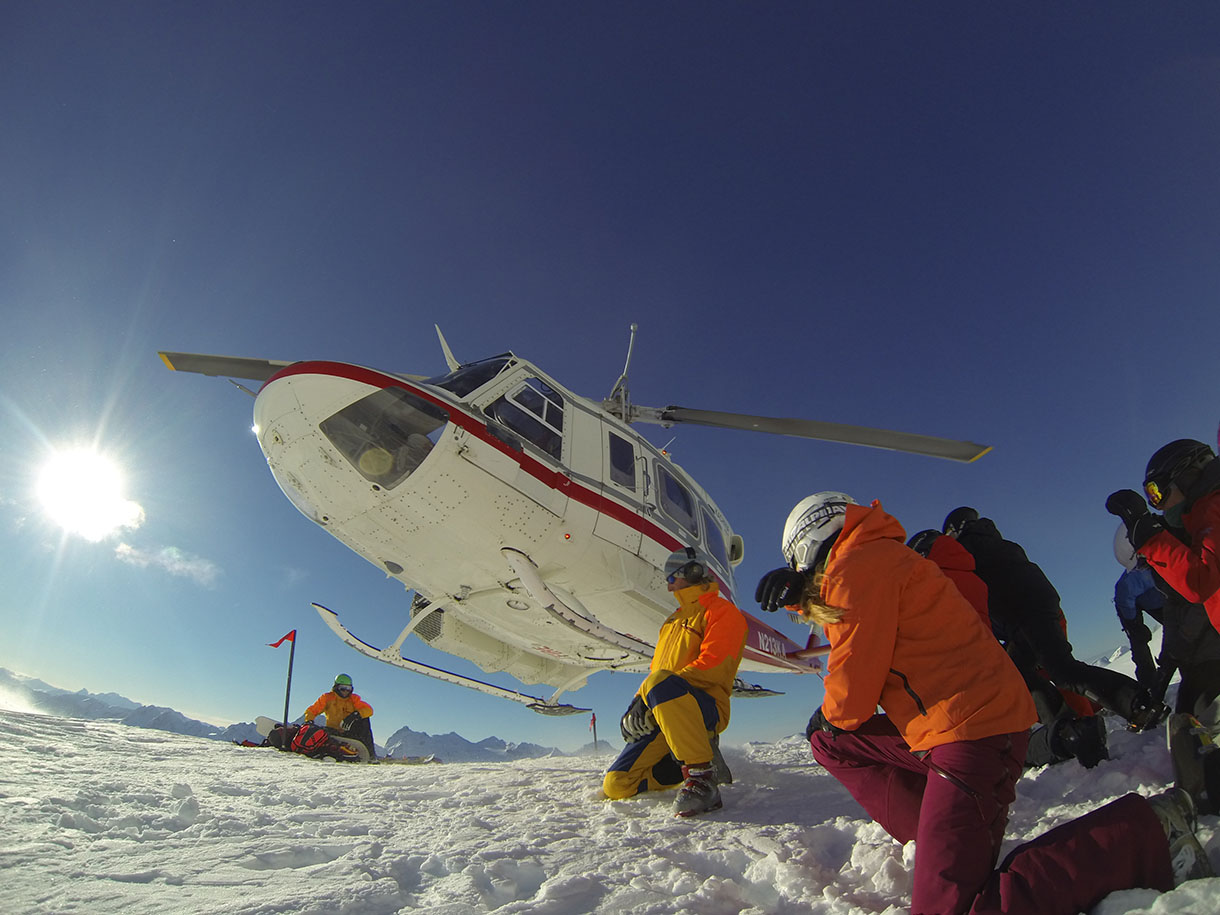 Heliskiing Top 10 – all questions, all answers: "Do I have to jump out of the helicopter?"
Heliskiing – almost every winter sports enthusiast is familiar with the spectacular images of daring daredevils who fly to the highest peaks in helicopters and then take insane descents. But climbing into a helicopter yourself? Unthinkable! Yet many skiers and snowboarders simply have the wrong idea about heliskiing. SKI KANADA answers the ten most frequently asked questions about helicopter skiing and clears up some prejudices.
Here are the Ski Canada top ten questions about heliskiing:
1. Is heliskiing safe?
One thing right away: there is no absolute safety. How could there be? Heliskiing takes you far away from civilization, through huge, snow-covered mountain ranges, and nature cannot be controlled. But heliskiing operators do everything they can to minimize the risk for their guests.
The snow and weather situation is constantly checked, and the companies regularly exchange information on this. All winter sports enthusiasts are equipped with avalanche transceivers and can also book avalanche backpacks. The helicopters are in top condition, the pilots are masters of their trade and the highly trained guides know their areas inside out. If a guide does not trust a slope, he will not ski it. And the difficulty is adjusted to the level of the group.
2. Am I good enough for heliskiing?
Basically, anyone can come to heliskiing who can master challenging slopes in the ski area. Many companies offer programs especially for beginners. For all winter sports enthusiasts: the fitter, the better. A day in deep powder snow makes the thighs glow quite a bit. It's worth checking your fitness a few weeks before the trip and building it up if necessary – no wild fitness juggernauts, but the basics should be there. A tip: It makes sense to warm up in a ski resort before your first day in the heli!
3. What should I bring to the heliskiing?
That depends on the organizer. Of course you have to bring your own ski or snowboard boots. Everything else is provided by the heliskiing company – including the safety equipment and the wide slats for skiers and the powder boards for snowboarders. When it comes to clothing, it's best to stick to the onion principle with layers that aren't too thick. After all, you're going up in a heated helicopter. And if you don't break a sweat on the descent, you're probably doing something wrong.
4. Do I have to jump out of the helicopter when heliskiing?
The classic! Apparently, years of consuming Hollywood action movies have left a lasting impression. But this assumption is wrong. The pilot heads for a familiar landing spot and sets the helicopter down very gently. After that, everyone has enough time to climb out of the cabin with due caution. In the meantime, a guide takes care of the equipment, which is fastened in a basket on the side. So quite unspectacular – and that's a good thing. So nobody jumps out of the helicopter when heliskiing!
5. Won't I sink in the snow when heliskiing?
Of course, when you get out of the helicopter, you can be standing knee-deep or even hip-deep in snow. But isn't that why you're up there in the mountains? Besides, especially in Canada, the powder snow is so wonderfully light that you can usually get back on your feet without any problems. The guides also know a trick or two that can help you get out of an awkward situation quickly after a fall.
6. How often does heliskiing take place during the day?
There is no general answer to this question. Small groups fly more often than larger ones, high performing groups are faster than beginners. Some heliskiing companies have a certain number of vertical meters in their program. Once the limit is reached, each additional flight costs extra. On average, skiers and snowboarders get 30,000 to 50,000 vertical meters in a week – but it goes well beyond that.
7. Where is the best place to go heliskiing?
The greatest variety is certainly in Canada. In British Columbia, Canadian Mountain Holiday (CMH), run by heliskiing pioneer Hans Gmoser, operates eleven lodges. Then there are other established providers such as Mike Wiegele, Selkirk Tangiers Helicopter Skiing, Last Frontier Heliskiing, Bella Coola Heliskiing, Northern Escape Heliskiing, Bearpaw Heliskiing, Great Canadian Heliskiing, RK Heliskiing and many more. But there is also heliskiing in Iceland, Sweden, Turkey or Georgia, as well as in Kamchatka, the easternmost tip of Russia. And let's not forget the highest mountains in the world: the Himalayas in India are also a heliskiing destination!
8. When is the best time for heliskiing?
Hard to say, almost every month has its advantages and disadvantages. In December and January it is often cold and deep snow, when conditions are worse you go for the more challenging tree skiing in the forest. Towards the end of the season, the weather is better, but warm sunshine and snow are not an ideal mix. Then flights to the glacier are the order of the day. So you should think about your travel period early. If only because other winter sports enthusiasts also want to enjoy heliskiing. The most popular weeks are booked up quickly.
9. Is heliskiing also possible in bad weather?
Downdays, the terror of all heliskiers and boarders. Unfavorable conditions can be absorbed to a certain extent, for example by tree skiing. However, if wind and clouds do not permit a take-off, the helicopter remains on the ground, because the following always applies: Safety first! Some heliskiing companies then switch to catskiing – if a snowcat is available. If there is no adequate substitute, the providers reimburse the loss. A small consolation: In the luxurious lodges it can be held out also occasionally a day, many have for example a great Wellness range. If you still want to do some sports, you can go cross-country skiing, snowshoeing, touring, to the gym or to the climbing walls that some of them have.
10. May I listen to music while heliskiing?
It's too good to be true: casually pulling one perfect turn after another into the dusting powder snow while being inspired by your favorite music – and you'll feel like you're in the new Warren Miller movie or one of the other ski and snowboard productions. But this is strictly forbidden. For good reason. The guides must be heard at all times, and their instructions must be followed at all times and without delay. So the only thing left to do is to hum the latest catchy tune quietly to yourself.
Finally, the last and all-important question: Is heliskiing really worth it?
As a "normal" winter sports enthusiast, it's hard to imagine a greater feeling than gliding through a perfect blanket of feather-light powder surrounded by imposing peaks. Ultimately, you have to decide for yourself whether heliskiing is really worth it. The correct question should therefore be: Is it really worth trying heliskiing once? Here the answer is yes, yes and yes again!
There is nothing better than a gigantically large area with any number of dream runs, airy powder snow in unimaginable quantities and no one to fight you for the most beautiful slopes. In addition, a breathtaking panorama and the feeling of freedom in the midst of untouched nature, far away from the hustle and bustle of everyday life and city noise. For many skiers and snowboarders heliskiing is simply a dream – and unfortunately it usually stays that way.
Heliskiing is more feasible than many think
Too expensive, too difficult, too dangerous, too far away: these are the reasons that speak for many against the deep snow adventure with the helicopter. Yes, there's no arguing about the distance. It's still a few kilometers to Canada or Alaska. And other destinations like Iceland or India are not exactly around the corner. And no, the most exclusive form of skiing or snowboarding is not a bargain. But if you're not afraid of the journey and have set aside some money for what could be a once-in-a-lifetime experience, you shouldn't be put off heliskiing. Especially since many reservations are based on rumors, as our answers to the top 10 questions about heliskiing have shown. Heliskiing should be booked with tour operators in Europe. There the payments are insured and the European travel law protects the customers optimally. Top heliski tour operators include Kenny Prevost's TRAVELZONE with international best price guarantee, ski safari specialist Stumböck and Bap Koller's Outdoor Adventures.
At TRAVELZONE, readers of SKI KANADA and SKI USA receive a $100 lodge credit with every heliski booking. Just mention SKI KANADA or SKI USA when booking!
News
The small town of Fernie in southeastern British Columbia is known as Powder Town. This paradise for freeriders is home to the Fernie Alpine Resort at the foot of the imposing Lizard Range. Want to know what makes the resort

Born in the alps, at home in the mountains worldwide!
In der Nähe
Heliskiing Top 10 – all questions, all answers: "Do I have to jump out of the helicopter?"