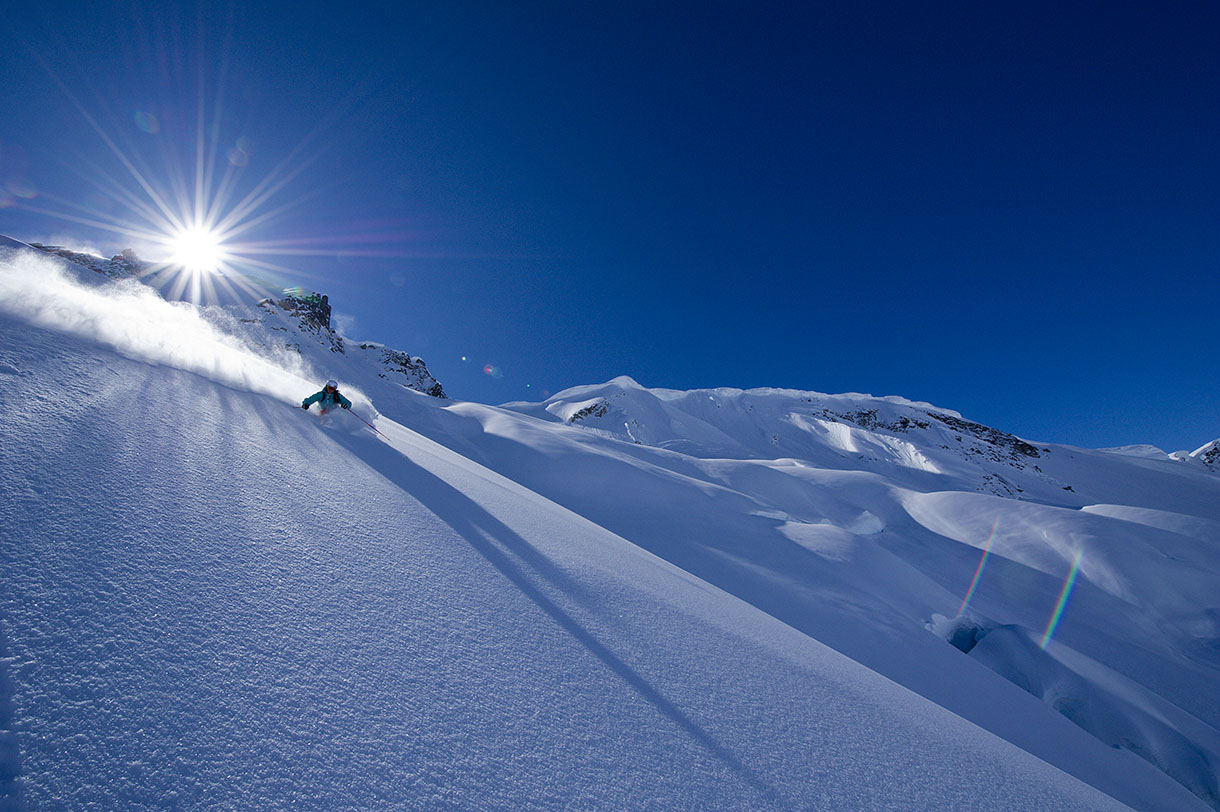 Whistler – What else!
Every snowboarder and skier must have been to Whistler once in their life. Canada's largest ski resort is gigantic in every respect. Nowhere in Canada are there more slopes, more terrain, more top restaurants, more bars, stores and luxury hotels – and above all: more cool guys!
"Whistler is a fixed star in the skiing sky. And not just since Canada's most famous winter sports resort became known worldwide as the venue for the 2010 Vancouver Winter Olympics. Whistler is a giant in the snowboarding and skiing scene because the resort, located just under two hours north of Vancouver by car, is simply the optimal winter vacation spot for everyone.
Whistler is as perfect for pleasure skiers and boarders as it is for sporty racers to freeride pros. Whistler is a hotspot for extreme skiers and at the same time a family resort, cool party town and gourmet meeting place for West Coast high society, who stay in luxury hotels like the Fairmont Chateau Whistler.
Whistler: lots of powder and huge terrain
Whether you're a raggedy freerider or a dressed-up model, everyone mixes equally on the mountain in Whistler. The only thing that counts is how well you stand on the edge or how elegantly you plow through the powder. And Whistler has plenty of that in its gigantic, 33-square-kilometer ski area. With more than 10 meters of snow per season, Whistler is more richly endowed than many resorts further east. The snow falls abundantly in the Coast Mountains, but is not as dry due to its proximity to the Pacific Ocean. Therefore, it is not quite as powdery, but the stability of the snowpack is often higher, allowing for steeper slopes to be skied in the terrain.
Of course, no one should leave the secured slopes without complete safety equipment. With the right equipment and a guide, however, Whistler offers endless possibilities on the two mountains, which are now connected by the Peak 2 Peak gondola. The gondola spans almost four and a half kilometers across the valley – that's a world record!
Because of its proximity to Vancouver and its airport, Whistler is also ideal for the heliskiing warm up. A few days in Whistler are perfect to get rid of jet lag and prepare yourself on challenging terrain for the catskiing or heliskiing adventure. Whistler Heliskiing as well as Powder Mountain Catskiing and Powder Mountain Heliskiing are located right on site, TLH Heliskiing is close by. But also on a tour to many other cat and heliskiing providers in northern British Columbia like Bella Coola, Northern Escape, Bear Paw or Last Frontier it is worth the stopover."
Insider-Tipp
Locals and the craziest freeriders meet for après ski at Garibaldi Lift & Co, which locals just call GLC. The rich and famous sip champagne and fine wines at Bearfoot Bistro.
News
The small town of Fernie in southeastern British Columbia is known as Powder Town. This paradise for freeriders is home to the Fernie Alpine Resort at the foot of the imposing Lizard Range. Want to know what makes the resort
News
The small town of Fernie in southeastern British Columbia is known as Powder Town. This paradise for freeriders is home to the Fernie Alpine Resort at the foot of the imposing Lizard Range. Want to know what makes the resort
Facebook
Partner