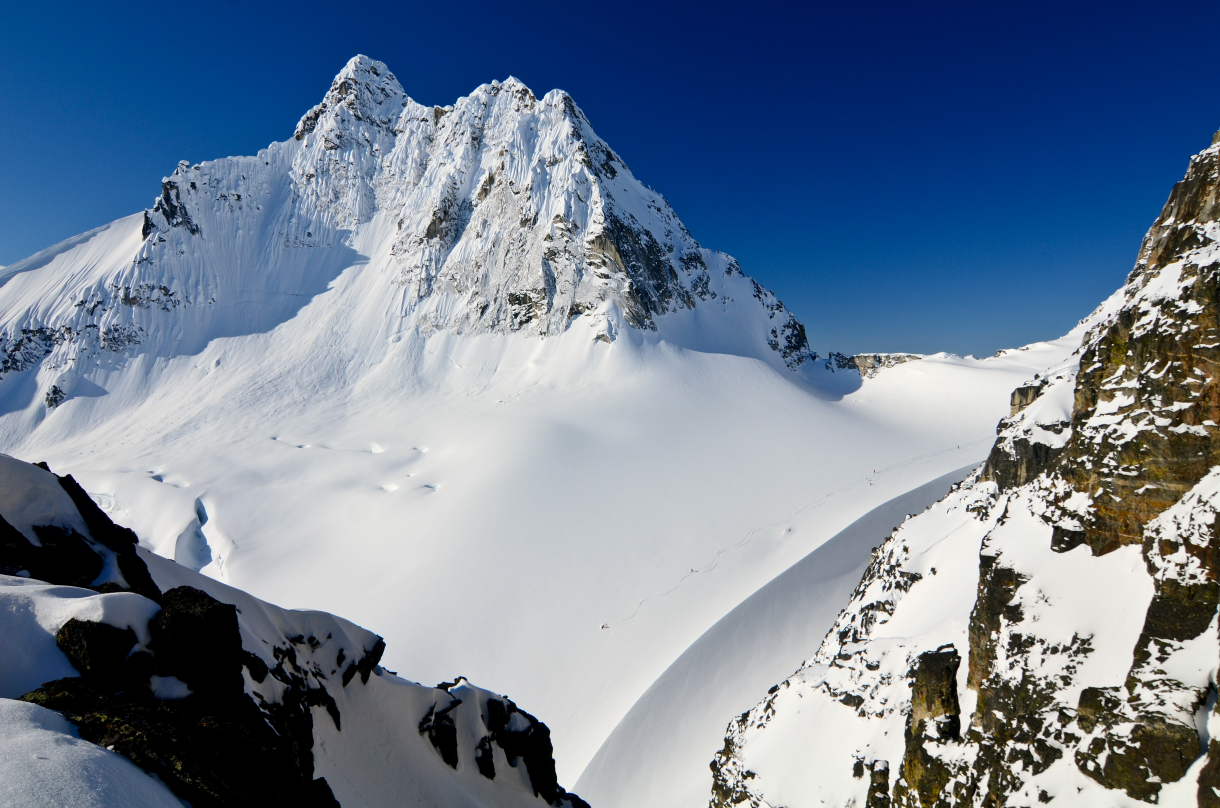 CMH Bobbie Burns: Heliskiing regulars' favorite
Wide alpine runs, challenging treeskiing, only three groups, and a gorgeous fly-in lodge set in the wilderness. The Bobbie Burns is one of the favorite lodges of CMH regulars. If you've ever been there, you know why.
"CMH Bobbie Burns: The two Munich have already been there three times, the pair from Wallis at least twice. Jack from Colorado is almost part of the inventory. At some point, the American stopped counting. ""I don't know how many times I've been there. But I know that it was great every time,"" says the older man from near Denver.
CMH Bobbie Burns Lodge scores with seclusion
What fascinates Jack so much about Bobbie Burns Lodge is its secluded location and incredibly varied terrain. The area covers 1,700 square kilometers, spanning both the Selkirks and the Purcells, and offers more than 300 runs. With his keen sense for the best heliskiing terrain in British Columbia, CMH founder Hans Gmoser was quick to identify the area around Bobbie Burns Lodge as ideal heliskiing terrain.
Bobbie Burns was Gmoser's third lodge, completely renovated and modernized in 1981. It is 1,370 meters high. It's only a few steps from the breakfast room to the heli, which takes off every morning directly in front of the lodge. This is pure luxury.
Unlike most other CMH lodges, the Bobbie Burns' helicopter only carries three groups with a maximum of eleven guests. The speed of travel is thus somewhat higher than with four groups of eleven guests each. No one has to rush, but they should be able to ski or snowboard quite well, Jack says. Even in his mid-60s, the experienced heliskier has no problem keeping up the pace.
Jack enjoys the powder on the untracked slopes, which are supplied with about 15 meters of snow per season. Heliskiing in Canada can't be more beautiful anywhere, says the American at the après-ski barbecue in front of the deep-snow Bobbie Burns Lodge. Jack should know. After much thought, he remembers how many times he's been to CMH: 14 times!"
Insider-Tipp
The challenging ski area of Kicking Horse is ideal for warming up for the heliskiing adventure at Bobbie Burns Lodge. Heli transfers to the lodge start just south of Kicking Horse, which is located above Golden. The insider tip for foodies there, by the way, is the Eleven 22 restaurant in a winding wooden house.
News
The small town of Fernie in southeastern British Columbia is known as Powder Town. This paradise for freeriders is home to the Fernie Alpine Resort at the foot of the imposing Lizard Range. Want to know what makes the resort
News
The small town of Fernie in southeastern British Columbia is known as Powder Town. This paradise for freeriders is home to the Fernie Alpine Resort at the foot of the imposing Lizard Range. Want to know what makes the resort
Facebook
Partner
In der Nähe
CMH Bobbie Burns: Heliskiing regulars' favorite