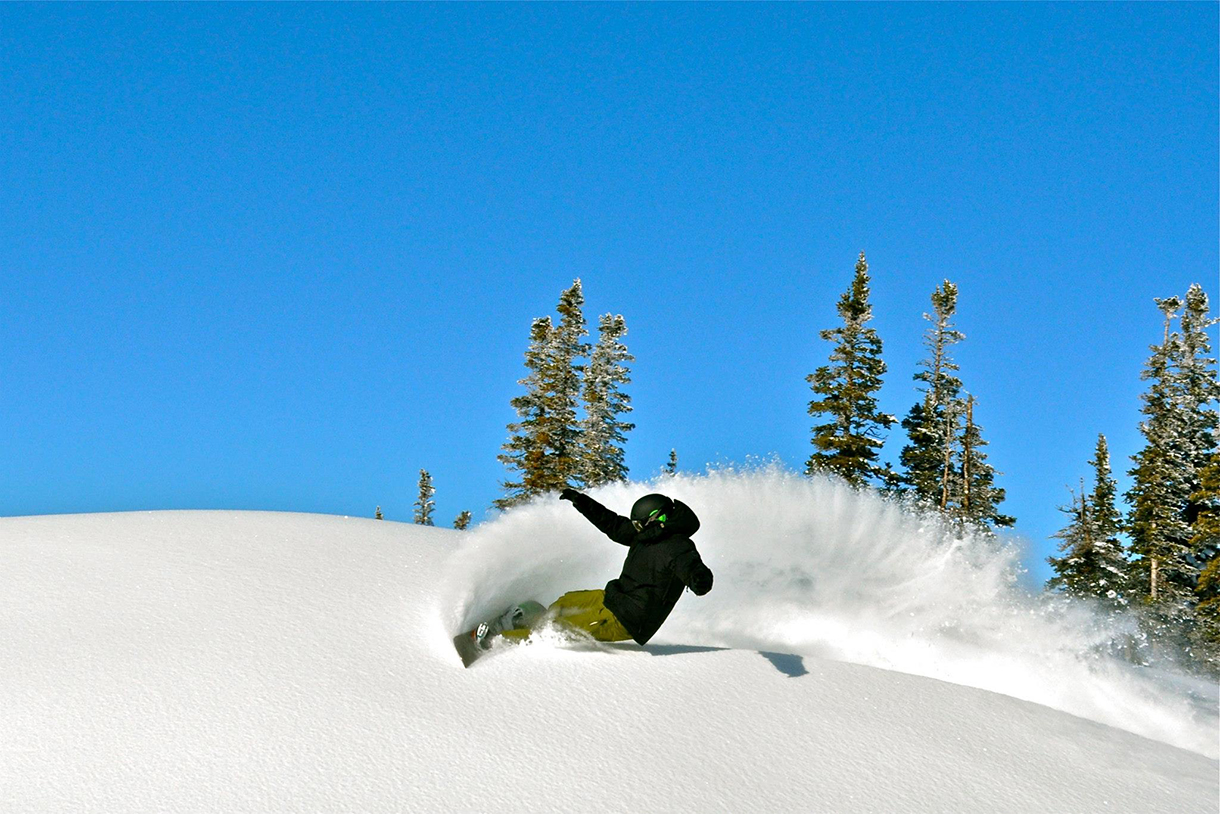 Snowboard: Fit for deep snow
For many snowboarders, deep snow skiing is the supreme discipline. You float almost weightlessly through the deep powder and enjoy a feeling of freedom in untouched nature. Once you've discovered this experience for yourself, it's hard to get away from it: powder skiing is absolutely addictive! SKI USA, SKI KANADA and the German Ski Instructors Association (DSLV) give you some tips that make it easier to get started in the backcountry and explain what you should absolutely pay attention to.
Seemingly effortlessly, the snowboarder dives into the virgin slope, pulls a few turns there in the fresh deep snow, then he's already disappeared again. All that remains of his performance is a small dust cloud of the finest snow and a perfectly drawn line. For observers, deep snow riding looks elegant and spectacular at the same time, for the freeriders themselves it is the highest of feelings.
Snowboarding in deep snow – the greatest for freeriders
What looks playful and easy at first glance, in reality requires some practice. Even good snowboarders, who master every slope without any problems, sometimes overestimate themselves in the open terrain. That's why it's important to prepare yourself sufficiently for the adventure of deep snow. This includes a good technique, the right equipment and the ability to correctly assess the external conditions.
Before heliboarding, practice, practice, practice!
SKI USA, Ski KANADA and the German Ski Instructors Association (DSLV) show you what is important in deep snow. Some of the exercises serve as preparation and will also help you on the slopes, others will take you right into the powder. In addition, we show you which material you should not do without. In this way, we will get you ready for the incomparable adventure of powder skiing in just a few steps.
On the following pages you will learn more about:
The first meters in deep snow
Tempo increase for more inclination
Powdering for advanced skiers
Even more info on skiing and snowboarding technique topics can be found in the curricula of the German Ski Instructors Association:
DSLV Lehrplan – Skifahren einfach, 2012, ISBN 978-3-8354-0869-2
DSLV Lehrplan – Freeriden einfach, 2012, ISBN 978-3-8354-0872-2
DSLV Lehrplan – Snowboarden einfach, 2012 ISBN 978-3-8354-0870-8
News
The small town of Fernie in southeastern British Columbia is known as Powder Town. This paradise for freeriders is home to the Fernie Alpine Resort at the foot of the imposing Lizard Range. Want to know what makes the resort

Born in the alps, at home in the mountains worldwide!