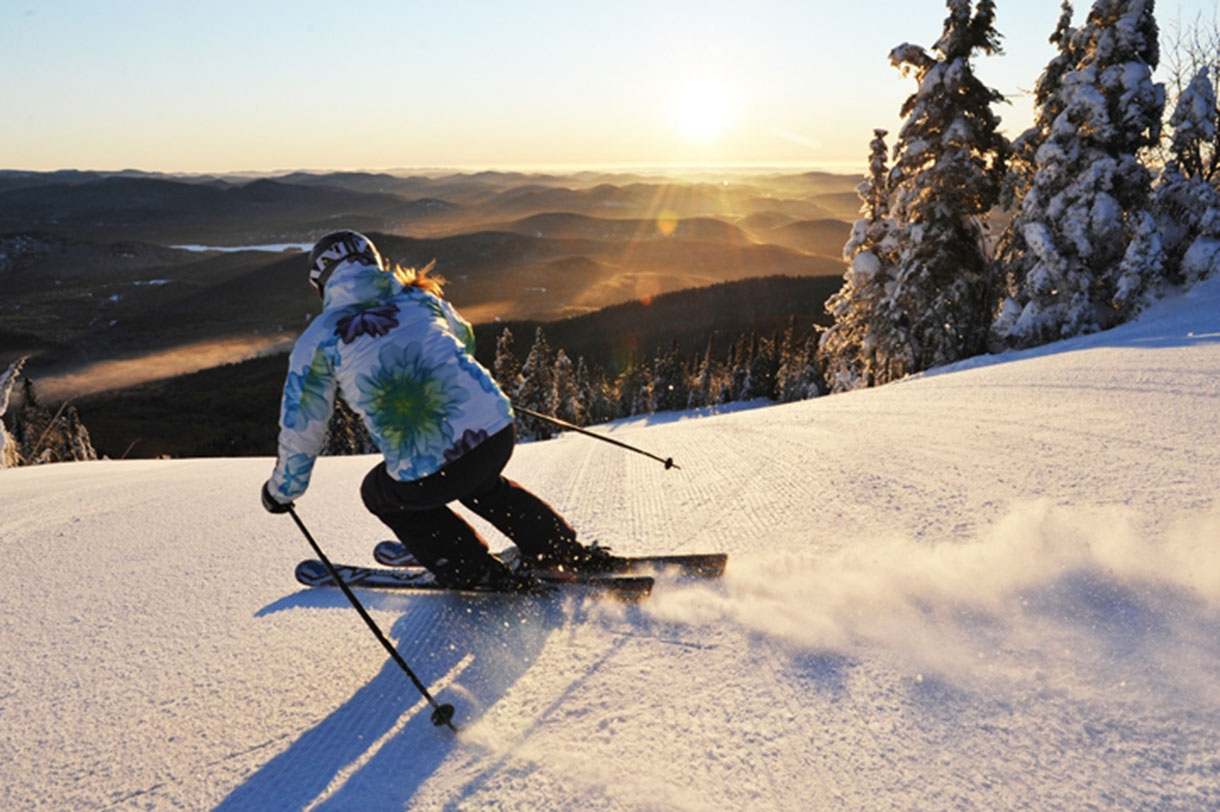 Tremblant: The Rolls Royce of Quebec Ski Resorts
For ten years, Ski Magazine readers have voted Tremblant the best outdoor resort in Eastern Canada. And rightly so! During the day you can enjoy the slopes of the Laurentides, and in the evening you can relax in rustic wooden cabins in historic style.
The European flair in the charming town of Tremblant has been attracting snow sports fans of all classes to eastern Canada for 75 years now. Nowhere else in Québec will you find a more diverse ski area. Whether beginner or adrenaline junkie, everyone gets their money's worth here.
Tremblant has its own airport and even serves a few international connections, including New York. The ski resort is therefore more convenient to reach than any other in North America and offers the perfect blend of luxury and sporting appeal.
Tremblant: a unique natural sports experience
The easy six-kilometer Nansen Trail runs past the main slopes, through secluded wooded areas, and offers a nature sports experience unlike any other. Those who are more into thrills will also find what they are looking for. The Emotion and Sensation forest runs more than live up to their names. On the steep slope, you'll go along the most beautiful powder between bushes and trees.
If you've had enough of the wild goings-on on the slopes, a relaxation paradise of the very finest awaits you in the valley. The massage and spa landscapes transport you straight to seventh heaven. Also the culinary supply leaves no desire open. A colorful mix of French specialties, plus a glass of wine from Provence and the day is perfect! And if you still have excess adrenaline, try your hand at roulette at Casino Mont Tremblant. Optimal snow conditions, thrilling slopes and an exciting nightlife make Tremblant a house number for families, adventurers and luxury lovers.
News
The small town of Fernie in southeastern British Columbia is known as Powder Town. This paradise for freeriders is home to the Fernie Alpine Resort at the foot of the imposing Lizard Range. Want to know what makes the resort
News
The small town of Fernie in southeastern British Columbia is known as Powder Town. This paradise for freeriders is home to the Fernie Alpine Resort at the foot of the imposing Lizard Range. Want to know what makes the resort
Facebook
Partner