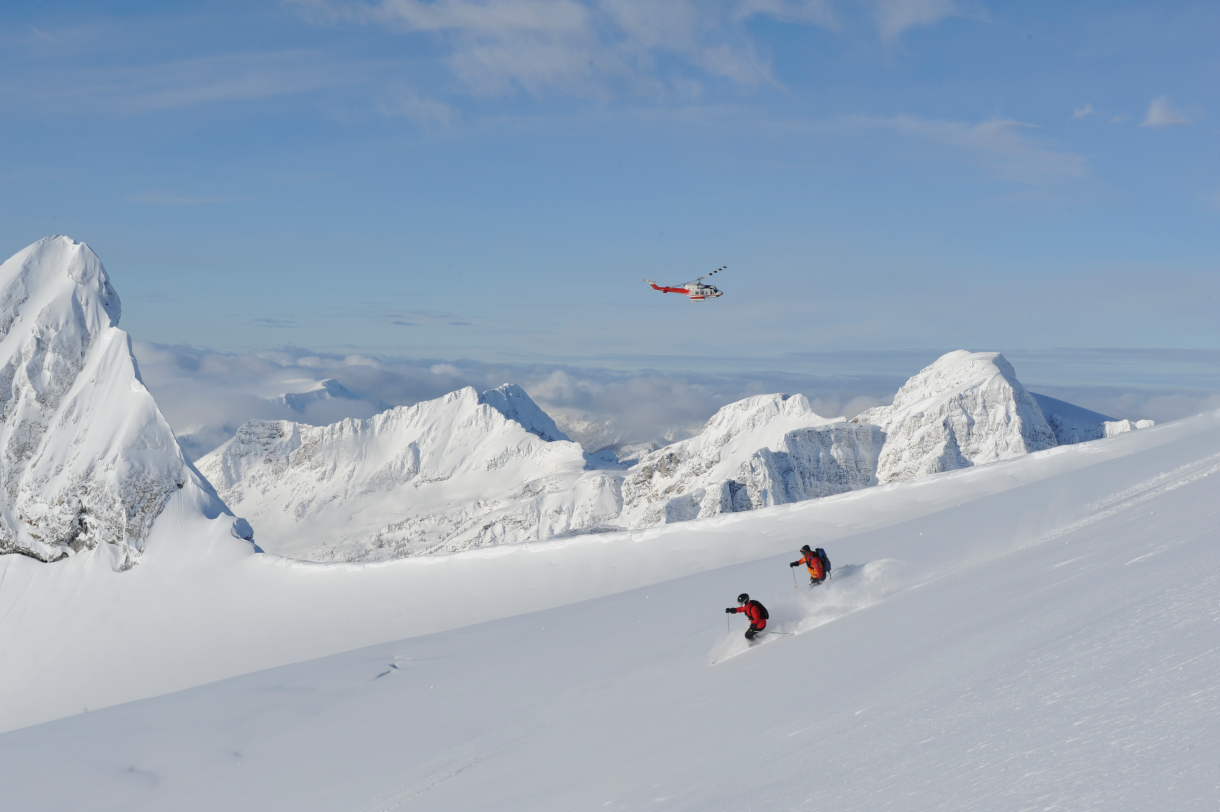 Where dream descents are everyday life: Heliskiing in Canada
Champagne powder, majestic mountain massifs and rustic lodges in the middle of the white wilderness – British Columbia is the winter wonderland for skiers and snowboarders.
"How many times have you skied an untracked slope this season?" asks Bruce Howatt the new guests at Bobbie Burns Lodge. "A powder slope like that, where not a single track has been made yet?" the lodge manager of Canadian Mountain Holidays (CMH) follows up. Two passionate tourers from the Engadine still come up with a good dozen, a Bernese counts five, and three northern Germans can't remember a single one this year. "We did eleven of those powder runs today alone," Bruce says, adding, beaming, "That's heliskiing!"
Heliskiing in Canada is no comparison to the Alps
If the weather cooperates in the Rocky Mountains, heliskiers ski virgin powder slopes all day on their ski vacation in Canada. The big exception in the Alps is everyday life in British Columbia. And this is not only due to the gigantic amounts of snow of 20 and more meters per year. The flexibility provided by helicopters makes Canada a winter wonderland for deep snow fans, explain heliskiing specialists.
Even days after the last fresh snow, heliskiing vacationers in British Columbia still ski immaculate terrain because the areas are huge, averaging 2,200 square kilometers. The largest are over 9,000 square kilometers, twice the size of central Switzerland. Even average heliskiing areas are twice larger than the legendary ski areas of St. Moritz, Zermatt, Arlberg, Aspen, Vail and Whistler combined. There are thousands of skiers per day there, while the Bobbie Burns Lodge area in British Columbia has only 44!
Anyone can go heliskiing in Canada
Heliskiing is an exclusive pleasure. Nevertheless, it's casual. Heliskiers are not snobs, but simply passionate skiers who are all about a unique skiing experience, says eight-time Ski World Cup winner Daniel Mahrer from Chur. The groups in the helicopters are correspondingly mixed. There are entrepreneurs and corporate bosses sitting next to ordinary wage earners, top skiers next to classic ski vacationers, and a few younger people between considerably more mature semesters.
Former downhill champion Mahrer likes the informal atmosphere of heliskiing vacations in Canada. And he loves the magical moment when the helicopter has deposited the winter sportsmen on a peak, rises again and then turns off in a nosedive into the valley and suddenly there is absolute silence. Like in a snow globe, sparkling snow crystals shimmer through the air in the sunlight. To the horizon there is nothing but imposing peaks, gigantic glaciers and huge valleys with white-sugared forests. There is no place to be seen, no house, no road, no power pole and no traces of other skiers.
Ideal for beginners
"A wide glacier like this is ideal for beginners," Bruce says. To guests, it looks like the pilot is heading for some dream slope, but the guides leave nothing to chance. All landing points and runs are tested and mapped. At six in the morning, the guides have studied the weather and snow reports and exchanged information with the other heliskiing operators in the region. Safety first is the motto, there is no competition. Nowhere are guides and pilots better trained, safety standards higher and guests more intensively familiarized with avalanche transceivers (LVS), probes and shovels. CMH also equips everyone with radios and, for a fee, ABS avalanche airbags.
"No one is rushed!"
Heliskiing is an adventure, but by no way is it just for super skiers. "Any good skier can go heliskiing," Bruce points out. "No one gets stressed or rushed. Anyone who is ever tired flies back to the lodge at lunchtime or simply sits out a day," explains the CMH lodge manager. Heliskiing specialists such as knecht reisen or TRAVELZONE also offer special introductory tours in which you are carefully introduced to off-piste skiing before you climb into the helicopter for the first time with your heart pounding.
The tingling in the belly belongs to it also for experienced Heliskier. Because the snow conditions are constantly changing. Wind and weather make skiing in unprepared terrain a challenge at times. But even in difficult conditions, Bruce & Co. still find dream slopes. If the helicopters can't fly to the summits because of fog, storms or extremely heavy snowfall, the guides go tree skiing in the woods. The natural slalom through the trees and the nature experience in the Canadian forests is unforgettable for many. This perfect mix of forest runs, challenging steeps and open freeride slopes is what makes heliskiing so fascinating.
30,000 to 50,000 vertical meters per week
The fewer skiers and the fewer groups a heli carries, the more you ski. Eight to ten runs per day are normal, up to 15 and more are possible. Between 30,000 and more than 50,000 vertical meters in a week are quite common – a minimum number of vertical meters is always included. Those who fly more pay a surcharge, those who fly less due to bad weather receive a refund.
This is no different with the market leader CMH, whose founder Hans Gmoser invented heliskiing in Canada in 1965, than with boutique heliskiing providers such as Bella Coola, Northern Escape or Last Frontier Heliskiing. Founded by expatriate Swiss George Rosset, the company operates in far northern British Columbia on the Alaskan border. Around its two locations, Bell 2 and Ripley Creek, it has 9,500 square kilometers at its disposal – the equivalent to a quarter of the area of Switzerland. Last Frontier Heliskiing flies small helis and groups of five.
Catskiing to warm up
Just as legendary as the far north of British Columbia is the deep-snow dorado of Revelstoke. In this small town on the Columbia River, you can not only go heliskiing with CMH or Selkirk-Tangiers, but you can also warm up in the challenging ski area and try catskiing. In catskiing, converted snowcats transport winter sports enthusiasts up to the summits, from which groups of about ten skiers and snowboarders glide down to the valley guided by a guide. Once at the bottom, the snowcat takes them back up. Daniel Mahrer and CMH Lodge Manager Bruce Howatt agree, however, that heliskiing is and remains the crowning glory of any Canadian ski vacation.
News
The small town of Fernie in southeastern British Columbia is known as Powder Town. This paradise for freeriders is home to the Fernie Alpine Resort at the foot of the imposing Lizard Range. Want to know what makes the resort

Born in the alps, at home in the mountains worldwide!
In der Nähe
Where dream descents are everyday life: Heliskiing in Canada