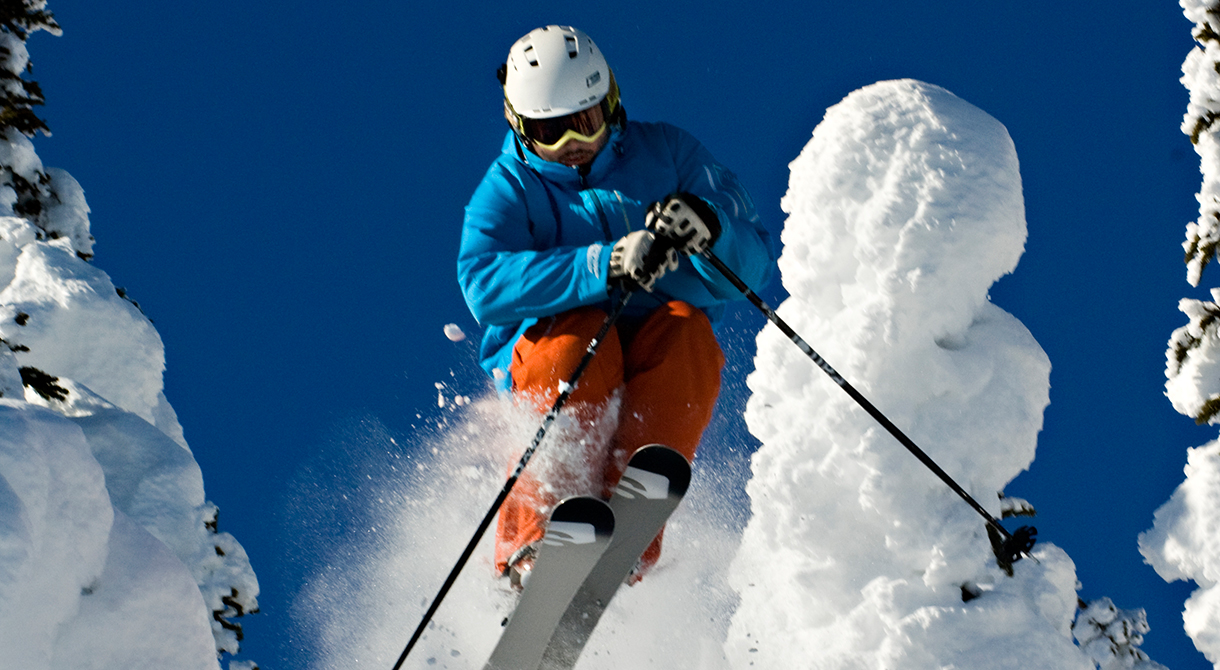 The right equipment for deep snow skiing
Deep snow skiing is primarily a question of technique, but the right equipment also plays a major role. The complete safety equipment is mandatory, the ideal equipment is recommended and the right ski is a good prerequisite. SKI KANADA & SKI USA have the best tips for the right deep snow equipment.
The right equipment for off-piste powdering on skis
Ski
Wide and slightly longer all-terrain or all-mountain skis with rocker bend make it immensely easier to turn in deep snow due to significantly better flotation. The ski width under the binding should be more than 95 mm. The ski may be body-length or even 5 to 10 cm longer. Length and width provide more lift in the snow, but make the ski more cumbersome on the slopes. Most cat and heliskiing operators in North America include powder skis in the price.
Ski poles
Ski poles with large pole plates for better lateral support are optimal. If they are adjustable in length, so much the better. In deep snow, adjust the poles a little shorter than on the slopes. In powder and in the woods, the rule is always: get out of the loops! A lost ski pole is always better than a dislocated shoulder because you got stuck somewhere with the pole.
Avalanche, probe and shovel
Skiing in deep snow always involves a residual risk. Despite all precautions, avalanches can never be ruled out. An avalanche transceiver (LVS) such as those from Ortovox are an absolute must. As well as a probe and shovel for emergencies.
Avalanche airbag backpack
Nowadays, no one should go into unsecured terrain without an avalanche airbag backpack from ABS. In an emergency, ABS triggers a handle that blows gas from a cartridge into two large balloons. These balloons inflate at lightning speed. Due to the higher volume, one should float on top in the avalanche and not be buried. The enormously high success rate speaks for the pioneer of avalanche airbag systems. That is why an ABS on the back is mandatory for every deep snow skier.
Helmet
What is almost normality on the slopes should also be a matter of course when skiing in deep snow: Never ski without a helmet. Modern ski helmets, such as those from Alpina, are lightweight, warm, safe and cool.
Back protector
If you're skiing in unsupervised terrain, you never know what's lurking beneath the snowpack. A tree stump or fallen log can be fatal in a fall. Back protectors are therefore highly recommended. Top protectors, such as those from Komperdell, protect effectively, are lightweight and do not restrict movement at all.
Next: The most important basics for deep snow skiing.
Back to the beginning here.
For even more info on skiing and snowboarding technique topics, check out the syllabi from the German Ski Instructors Association:
DSLV Lehrplan – Skifahren einfach, 2012, ISBN 978-3-8354-0869-2
DSLV Lehrplan – Freeriden einfach, 2012, ISBN 978-3-8354-0872-2
DSLV Lehrplan – Snowboarden einfach, 2012 ISBN 978-3-8354-0870-8
News
The small town of Fernie in southeastern British Columbia is known as Powder Town. This paradise for freeriders is home to the Fernie Alpine Resort at the foot of the imposing Lizard Range. Want to know what makes the resort

Born in the alps, at home in the mountains worldwide!