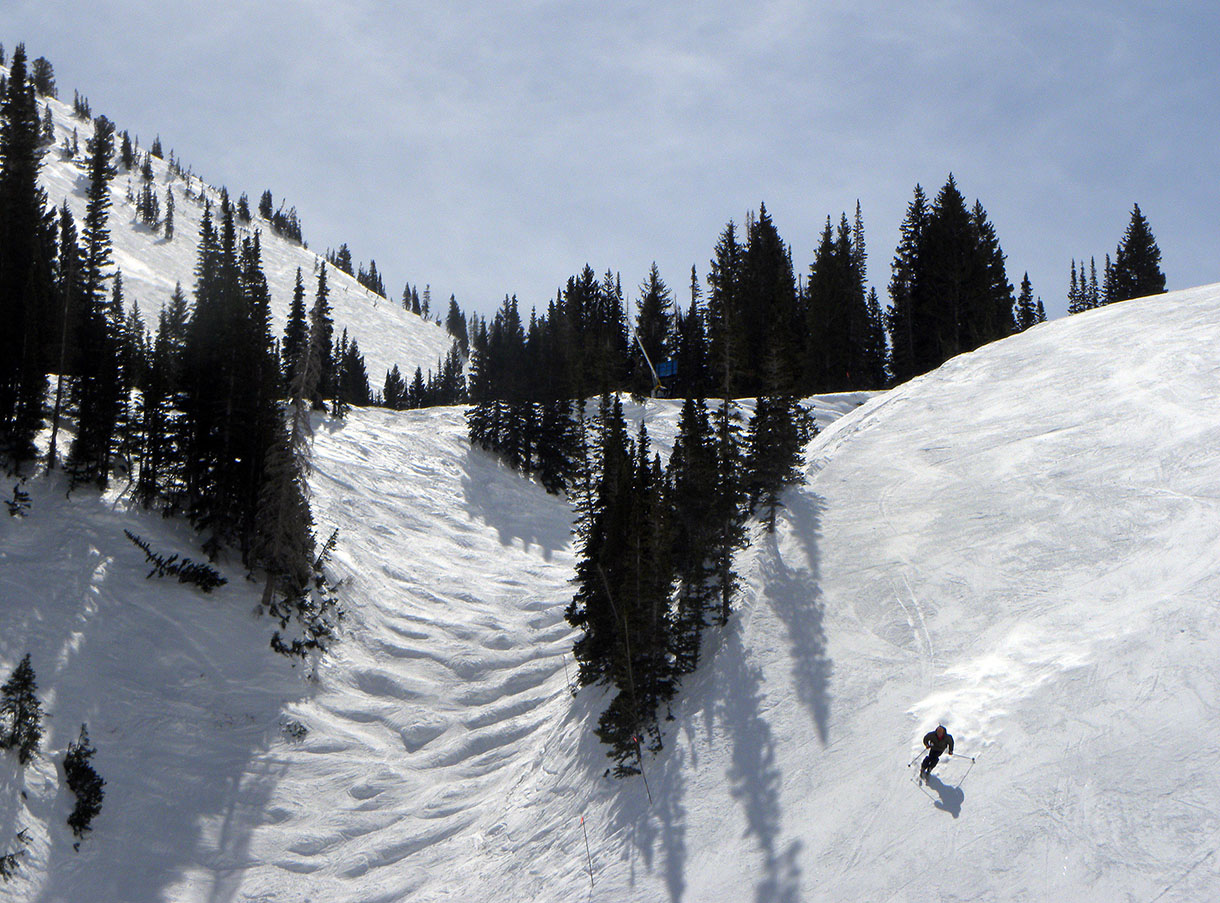 Driving curves in frozen dew
"Breaking in again and again, as if on a thin eggshell" – probably the most exhausting and tedious skiing experience for any skier. Once defrosted snow that has frozen again overnight is broken snow. Turns are particularly unpleasant on such ground, as the paper-thin slabs of ice rob any stability. SKI KANADA, SKI USA and the German Ski Instructors Association (DSLV) explain what is important when making turns in broken snow and how to stay cool on the boards despite such unpleasant conditions.
The most important thing when turning in frozen dew is explosive relief! The skis are turned on in the air and ""break"" through the thin layer of ice.
Turning in frozen dew simply explained
Skiing tactics
load rather on both legs -> better load regulation possible
rather narrow leg position -> higher surface effect of the skis, prevents sinking in on one leg, increases stability
very few and dosed edge movements -> increases the surface effect of the skis and thus the lift, increases stability
explosive movements -> facilitates turn changes
high body tension -> helpful in steering
In frozen dew it is also useful to choose shorter curve radii, but to ski them further away from the fall line. This makes it much easier to apply the right pressure to the ground. Take advantage of the width of the slope and take many longer diagonal runs, this saves energy and you can prepare for the next turn. Nevertheless, you should not be too slow on the road, as the driving balance makes cornering much easier.
Driving technique
Changing turns on a paper-thin icy surface means constantly bouncing up and down, losing contact with the snow for a brief moment with your ski. For better relief, you can additionally squat your legs. Use the ski pole as a strong relief, support and rhythm aid.
Turn control begins immediately after losing contact with the ground. Quickly turn the skis on from the legs and stretch the legs in preparation for the upcoming landing. Turned well above the fall line, you break through the layer of hardpack with full force on landing to follow up with another short steer, again building pressure for the next explosive push off.
Next: Turning in hard-turning snow
Back to the beginning here.
For even more info on skiing and snowboarding technique topics, check out the curricula from the German Ski Instructors Association:
DSLV Lehrplan – Skifahren einfach, 2012, ISBN 978-3-8354-0869-2
DSLV Lehrplan – Freeriden einfach, 2012, ISBN 978-3-8354-0872-2
DSLV Lehrplan – Snowboarden einfach, 2012 ISBN 978-3-8354-0870-8
News
The small town of Fernie in southeastern British Columbia is known as Powder Town. This paradise for freeriders is home to the Fernie Alpine Resort at the foot of the imposing Lizard Range. Want to know what makes the resort

Born in the alps, at home in the mountains worldwide!